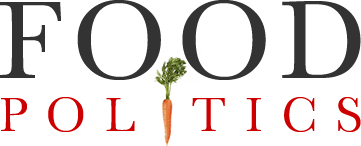 by Marion Nestle
San Francisco Chronicle: Food Stamps and Sodas
My monthly (first-Sunday) Food Matters column in the San Francisco Chronicle continues the conversation about use of food stamps to buy sodas.
Q: When I see people in grocery stores using food stamp benefits to buy sodas, I get upset. Why does the government allow this?
A: My quick answer is lobbying, but discomfort about whether welfare benefits should permit the poor to eat as badly as those who are better off dates back to the English Poor Laws of the 16th century.
New York City's proposed pilot project banning the use of food stamps for buying sugary sodas is only the latest event in this long and complicated history.
Welfare policies have always been designed to give the poor just enough to keep them off the streets, but not enough to induce dependency. The tension between these goals has resulted in scanty benefits – and endless debates.
Today, the debit cards provided by SNAP (Supplemental Nutrition Assistance Program) can be used for all foods with these exceptions: alcoholic beverages, pet foods, nutrient supplements and on-site prepared foods.
New York's proposal to add sodas to the "can't buy" list is based on evidence linking sugary sodas to obesity, their lack of nutritional value, and estimates that SNAP recipients spend $75 million to $135 million in city benefits each year.
The proposed ban does not stop SNAP recipients from buying sodas. They just won't be able to use SNAP benefits for them.
Soda companies strongly oppose this idea, of course, but so do many advocates for the poor. Advocates argue that the restrictions are insensitive and condescending in assuming that the poor are uniquely unable to make sensible dietary decisions.
The real problem, they correctly point out, is that low-income Americans – with or without SNAP benefits – cannot afford to buy healthy foods or do not have access to them.
As a result of such arguments, I have long been uncomfortable with the idea of the soda ban. But in recent months, I have come to support it. Here's why:
Evidence is strong that sugary drinks predispose to obesity, and obesity rates are higher among low-income households. In New York City, for example, obesity and Type 2 diabetes are twice as prevalent among the poorest households compared with the wealthiest. Preliminary evidence suggests that sugars in liquid form may especially predispose to obesity.
Overall, soda companies have worked hard to create an environment in which drinking sugary beverages all day is normal. They lobby to introduce and retain vending machines in schools. As sales in the United States have declined, they increasingly market their products to people in developing countries.
They put millions of dollars to work fighting soda taxes and, no doubt, the proposed SNAP ban.
I'm impressed by the comparison of the SNAP approach, which allows benefits to be used for most foods, to that of the WIC (Women, Infants and Children) program. The USDA runs both programs. WIC, the most demonstrably nutritionally successful of all food assistance programs, allows benefits to be used only for a restricted number of nutrient-rich foods.
In 2010, SNAP benefits went to more than 40 million people at a total cost of more than $68 billion. We need to focus on finding ways to make healthful foods more affordable and accessible to low-income families – doubling the value of SNAP benefits when used for fruits and vegetables, for example, or promoting incentives to move grocery stores, and community gardens into inner-city areas.
Still, soft drink companies have had a free ride for decades.
I hope the USDA will approve New York's proposed ban.