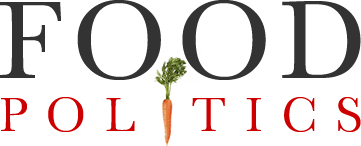 by Marion Nestle
Liberals: Walmart wants YOU!
Walmart is not satisfied with being the biggest food retailer in the world.  It wants more.  It has saturated national suburban areas, says the New York Times, and is now lobbying hard to get into New York City—that bastion of liberal thinking: 
Wal-Mart is pursuing that goal with the intensity, sophistication and checkbook of a full-fledged political campaign, hiring star political consultants, including Mayor Michael R. Bloomberg's former campaign manager, producing expensive television and print advertisements and conducting polls.

And it is doing it with the kind of in-your-face aggressiveness that would make a New Yorker proud.

A glossy brochure it mailed to thousands of city residents appeals to their sense of autonomy, declaring: "You don't ask the special interests or the political insiders for permission to watch TV. So why should they decide where you're allowed to shop?"
A spokesperson for Walmart explained that after exhausting all other customer segments:
Now we only have one segment left…People who self-identify themselves as liberals.

In New York, an indisputably Democratic city, Wal-Mart faces a big challenge, both from lawmakers…and from unions, who accuse the retailer of endangering small businesses and mistreating its workers.

Wal-Mart has responded with an all-out push meant to overwhelm and outmaneuver its far less deep-pocketed opposition. It has put out a flurry of television, radio and newspaper advertisements, including one radio spot that accuses opponents of not caring "about how many jobs Wal-Mart would create or how badly people need them."
 Advertising Age is also following the Walmart saga closely.  On March 6, it wrote about Walmart's enormous influence over the retail industry.  This could be a force in favor of better industry self-regulation (if such a thing is possible):
Walmart, however, clearly has been out in front of the rest of the industry on many issues. And unlike a government, it isn't bound by constitutional due process that bogs regulations sometimes for years. No Tea Party representatives are trying to withhold funds for its greenhouse-gas reduction plans. And with billions of dollars at business at stake for its biggest customers, Walmart wields a bigger stick than any fines a government can impose.
And on March 20, Advertising Age wrote about Walmart's complicated problems with class issues related to its pricing strategies. 
The chain so far is having trouble winning back shopping trips and dollars it lost the past two years from middle- and lower-income core consumers, and it also appears to be turning off the group it made inroads with through its last strategic revamp, Project Impact. That initiative cleared promotional merchandise out of aisles and reduced assortments to make stores more visually appealing and easier to shop in for upscale shoppers. But as Walmart scaled back on Impact by adding products back to its shelves and aisles and returned to everyday low pricing, those shoppers have become less satisfied.
Walmart may be family owned, but the family is exceedingly wealthy and runs an absurdly large enterprise—$405 billion in 2010, of which $140 billion was in food.  Anything Walmart does has an out-of-proportion impact on customers, its 2 million "associates" workforce, and competing businesses, large and small.
Everything Walmart does deserves scrutiny, and its efforts to move into New York City are no exception.