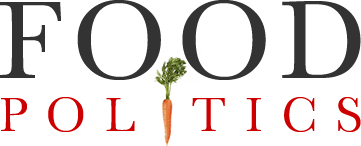 by Marion Nestle
The latest on the salt restriction politics
The New York City Health Department announces good news and bad news.  The good news is that seven companies have agreed to reduce the salt in their products.  The bad news:
The average sodium intake in New York is 3.1 grams (2.3 grams is recommended for people who are not at risk of hypertension; for those who are, it's 1.5 grams )
79% of New Yorkers exceed sodium recommendations
89% of New Yorkers at high risk of hypertension exceed sodium recommendations
Reminder: salt is 40% sodium.  This means that 3.1 grams of sodium is equivalent to nearly 8 grams of salt (two teaspoons).
The health department is working hard to bring restaurants and packaged food companies on board with salt reduction initiatives.  Packaged foods are easier (they have to label the amount of sodium).  The salt in restaurant foods is up to the chef, and one meal can easily exceed recommended levels for a day.
As for the effect of such efforts on food companies, FoodNavigator.com has compiled its recent pieces on salt restriction, all from the viewpoint of industry:
Salt restriction could increase risk of iodine deficiency: Restricting salt intake could increase risk of iodine deficiency, particularly among women, according to a new study published in the American Journal of Hypertension…
Mandatory sodium reduction 20 times more effective, finds study: Imposing mandatory sodium limits for processed foods could be 20 times as effective as voluntary reduction measures, suggests a new study published in the journal Heart…
Review shows steady US sodium consumption: Rising obesity rates may be a more important factor for hypertension than rising sodium consumption, claim the authors of a new study that suggests US sodium intake has remained relatively constant over the past 50 years…
Food makers look to umami as they cut sodium, says Bell Flavors: Food manufacturers are increasingly looking to boost the taste of their products with mouth-filling umami-type flavors as they reduce sodium in their products, according to Bell Flavors and Fragrances…
Concerted industry effort needed for sodium reduction: In order to cut sodium from American diets food manufacturers must work in unison to reduce sodium in their products – and their efforts have gained momentum, according to major industry players…
Packaged food makers have to label the sodium in their products