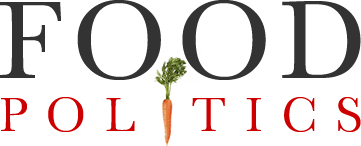 by Marion Nestle
Obesity as collateral damage: changing food industry behavior
I am a member of the editorial board of the Journal of Public Health Policy, which publishes research and commentary on matters that affect international public health.  Dr. Anthony Robbins, one of its editors, and I are calling on authors to submit articles that consider ways to change behavior—not, as is all too common, of individuals but of the food industry.
The journal has published many papers on obesity policies aimed at improving the diet and exercise behavior of individuals.  These may be necessary, but they are not sufficient.  It is now time to deal with the behavior of the food industry.  Food industry profits are
generated by capturing increasingly larger shares of the market and by selling the population more food – and calories –than it needs. In this marketing environment, obesity is collateral damage.

The food industry's ultimately anti-social behavior – whether conscious or inadvertent – is spreading globally. In higher income countries, it is ubiquitous, whereas in places where people have less disposable income, it is but the camel's nose under the tent.

Thus, effective strategies to reduce obesity may vary depending on penetration by the industry – and less developed nations may still have more opportunities to avoid obesity, by getting ahead of the curve.
How are countries to do this?
Efforts to control obesity will have to enlist the public to focus on behavior, with a shift from a sole focus on citizens to a new one on the behavior of food corporations…We cannot eliminate the food industry to reverse the obesity epidemic, but we can constrain its anti-social behavior…We encourage authors to reach beyond the kind studies of policies on eating and activity that we receive so frequently.

We have come to believe that research studies concentrating on personal behavior and responsibility as causes of the obesity epidemic do little but offer cover to an industry seeking to downplay its own responsibility.

Instead, we urge authors to submit articles that consider how to understand and change the behavior of the food industry.

As a starting point for thinking about how to approach this topic, we ask: does the industry need to overfeed the population to remain profitable?
Have ideas?  Write them up and submit them to JPHP.  There is no deadline.  The journal will consider submissions whenever they arrive, but sooner is better than later.