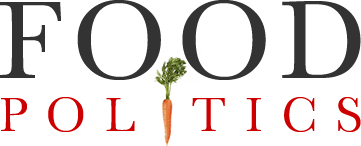 by Marion Nestle
Environmental Working Group's "dirty dozen"
The Environmental Working Group (EWG) has just published its 2011 guide to the most and least pesticide-laden fruits and vegetables.
The #1 "dirtiest"?  Apples.  The remedy?  Buy from the EWG "clean 15" list or buy organic.
The "dirty dozen" list, in order: Apples, Celery, Strawberries, Peaches, Spinach, Imported nectarines, Imported grapes, Sweet bell peppers, Potatoes, Domestic blueberries, Lettuce, Kale/collard greens.
The "clean 15" list of foods with the least pesticides: Onions, Sweet corn, Pineapples, Avocados, Asparagus, Sweet peas, Mangoes, Eggplant, Domestic cantaloupe, Kiwifruit, Cabbage, Watermelon, Sweet potatoes, Grapefruit, Mushrooms
How much should you worry about pesticides on foods?  As one reader asked,
Is it better to eat conventional fruits (cherries, berries and apples) and other veggies (peppers) that are on the "dirty" vegetable list or forego them altogether?
This is not an easy question to answer.  EWG recognizes that the science linking pesticides to health problems is limited (this is an understatement).  EWG bases its rankings on data published by USDA and FDA.  It considers:
Percent of samples tested with detectable pesticides
Percent of samples with two or more pesticides
Average number of pesticides found on a single sample
Average amount (level in parts per million) of all pesticides found
Maximum number of pesticides found on a single sample
Total number of pesticides found on the commodity
EWG explains that its
Shopper's Guide is not built on a complex assessment of pesticide risks but instead reflects the overall pesticide loads of common fruits and vegetables. This approach best captures the uncertainties of the risks of pesticide exposure and gives shoppers confidence that when they follow the guide they are buying foods with consistently lower overall levels of pesticide contamination.
Most available research supports the health benefits of eating fruits and vegetables regardless of their pesticide loads.  Ken Cook, the president of EWG says:
We recommend that people eat healthy by eating more fruits and vegetables, whether conventional or organic," says Ken Cook, president and founder of Environmental Working Group. "But people don't want to eat pesticides with their produce if they don't have to. And with EWG's guide, they don't."
By EWG calculations, you can lower your pesticide intake by 92% if you avoid the dirty dozen.  No wonder.  How's this for an observation: "Hot peppers had been treated with as many as 97 pesticides, followed by cucumbers (68) and greens (66)."  Who knew?
Where is the produce industry in all of this?  EWG reports that produce trade associations are working hand-in-glove with the pesticide industry to attempt to keep information about these chemicals out of the public eye.
I wish more research existed on the dose-response effects of pesticides and on their long-term effects on health, especially in children.  I cannot imagine that pesticides are good for health.  In high doses, they are demonstrably harmful to farm workers.
But what about the low doses on fruits and vegetables?  Here, the evidence for long-term harm is weak, uncertain, and unhelpful.
What to do?
On the personal side: if you want to avoid eating pesticides, you can stick with the EWG 15.  Washing produce before eating it is always a good idea even if it doesn't get rid of all of the chemicals (USDA studies are done on washed produce).  When in doubt, buy organic.
As for the political, if ever there was a situation where more research was needed, this is it.  And isn't it time for industrial food producers to find ways to use fewer pesticides?  Let the produce trade associations know that you don't like their defense of potentially harmful chemicals and that you much prefer organic.
Addition, June 16: For anyone interested, here are the USDA's pesticide announcements for the new data: