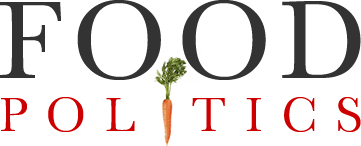 by Marion Nestle
What FDA is up against with imported foods
In an action highly unusual for the FDA, the agency has released a new "special report" on what it is up against as it tries to get a handle on the safety of imported foods.
Pathway to Global Product Safety and Quality points out that imported foods account for:
Between 10% and 15% of all food consumed by all U.S. households
Nearly two-thirds of all fruits and vegetables
80% of seafood
And imported foods have increased by at least 10% during each of the last seven years and are expected to increase by 15% per year for the next several years.
The New York Times notes that in 2008 the FDA would have needed "1,900 years to check every foreign food plant at its rate of inspections at the time."
That's not all.  According to FDA:
Manufacturers and producers…face intense pressure to lower costs and improve productivity, fueling a cycle in which the quest for efficiency leads to increased production abroad and higher volumes of imported products to regulate.

Goods entering the U.S. will come from new and different markets, flowing through long, multistep processes to convert globally-sourced materials into finished goods.

The shift in global product flows will make it difficult to identify the "source" of a product and to ensure that all players along the supply chain meet their safety and quality responsibilities.

And it is not just legal activity that poses challenges for the FDA. Increasingly, the agency must contend with ever more sophisticated threats of fraud, product adulteration, and even terrorism.
The FDA illustrated its report with terrific graphics.  My favorite is the supply chain for canned tuna:

What will the FDA do about this problem?  It says it will:
1) Assemble global coalitions of regulators dedicated to building and strengthening the product safety net around the world.
2) With these coalitions, develop a global data information system and network.
3) Expand capabilities in intelligence gathering and use.
4) Allocate agency resources based on risk, leveraging the combined efforts of government, industry, and public- and private-sector third parties.
The FDA released its report on practically the same day that the Health and Human Services Inspector General's office released a report highly critical of the FDA's ability to monitor the safety of imported foods.
Because FDA's food recall guidance is nonbinding on the industry, FDA cannot compel firms to follow it and therefore FDA cannot ensure the safety of the Nation's food supply.

FDA did not always follow its own procedures to ensure that the recall process operated efficiently and effectively.
This kind of criticism is not new.  Just last month, the GAO issued a critical report on the FDA's problems regulating the safety of imported seafood.  The FDA's difficulty with recalls is that until Congress passed the food safety act last year, FDA did not have the authority to order recalls.  It had to "pretty please" ask companies to recall unsafe foods.  Now it has the authority, but Congress did not grant new resources to carry out that authority.
The New York TImes explains the reason for the FDA's lack of oversight:
Audits of the F.D.A.'s oversight of the nation's food system routinely find the agency's efforts wanting, in part, the agency says, because its budget for such activities has long been inadequate. And although the new food safety law gave the agency extra supervisory powers, it is not clear how much it will be able to do, given that House Republicans have proposed cutting its budget for protective measures.
The FDA official in charge of food safety, Michael Taylor, has been discussing the vexing resource question in recent speeches.  He points out that the FDA:
Has a a huge workload. And even though public health officials are working hard, the agency will likely not meet all of its deadlines. On top of the backlog, FDA has no idea what its budget will be for fiscal year 2012.

An agriculture appropriations bill that cleared the House last week would cut food safety programs $87 million below fiscal year 2011.

The current budget situation does paint a challenging picture…a patchwork of continuing resolutions to keep the government funded — as we saw in 2011 — makes it nearly impossible to plan ahead.

When Congress gives us our budget over half way through the fiscal year it's very difficult to use that money in as orderly a way as possible. You can't use that money to hire the experts you need because the hiring process is such that you won't get them hired until the end of the fiscal year
When it comes to food safety, we only have one food supply, and it is global.  That was the whole point of my book Pet Food Politics: The Chihuahua in the Coal Mine—a case study of how melamine in China got into American, Canadian, and South African pet foods.  If it could happen to pet food, it could happen to ours.
To monitor the safety of imported foods, the FDA neeeds to be stronger, not weaker.