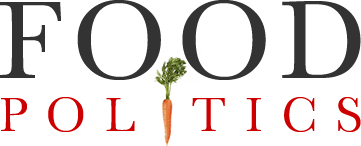 by Marion Nestle
New York CIty Health Department launches portion-size campaign
The amazing New York City Health Department, almost unique in its interest in public health and willingness to do what it can to improve the health of New Yorkers, adds another campaign to its collection of hard hitters.  This one is on the need to reduce portion sizes.
The subway campaign posters in Spanish and English.  Here's an example in Spanish.
I especially like this campaign because much of the work on increasing portion sizes in the food supply was launched by my former doctoral student, now Dr. Lisa Young.  See:
Larger portions do three things:
They have more calories, obviously.
They induce people to eat more calories
They induce people to underestimate the number of calories they are eating
All of these induce people to eat more than they need or should.
The expansion of portion sizes alone is sufficient to explain rising rates of obesity.
The Health Department's campaign makes sense.  Let's hope it helps.
Update, January 10: The American Beverage Association doesn't like the ads much, according to Crain's:
Portion control is indeed an important piece of the solution to obesity," said said Stefan Friedman, New York spokesman for the American Beverage Association, in a statement. "But instead of utilizing scare tactics, the beverage industry is offering real solutions like smaller portioned containers and calorie labels that show the number of calories in the full container, right up front, to help people chose products and sizes that are right for them and their families.
And if you think the New York City ads are tough and hard-hitting, try these "Strong4Life ads from the state of Georgia.  Shocking people out of complacency?  Or just shocking?
Update, January 25: The New York Times reports that the shocking photograph of an overweight man with a leg amputation was "photoshopped" from a stock photo.
This is unfortunate, as it opens the Health Department up to unnecessary criticism:
The American Beverage Association, which opposes the city's efforts against sodas and fast food, called the advertisement overwrought. "This is another example of the 'What can we get away with?' approach that shapes these taxpayer-funded ad campaigns," Chris Gindlesperger, the association's director of communications, said in a statement.