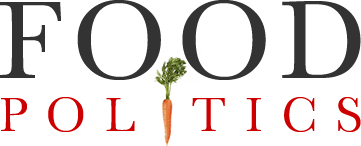 by Marion Nestle
Should CDC reveal the source of outbreaks? I vote yes.
Food Safety News is always an invaluable source of information about the science and politics of food safety, but today's items are more than enough reason to subscribe immediately.
Start with Dan Flynn's astonishing account of his repeated attempts to discover the name of the restaurant chain responsible for Salmonella outbreaks in Southern states last winter.
After calling health officials in several states where cases occurred, he says:
The surprise is not so much that public health officials do not want to name the restaurant chain involved, but that no one wants to talk about the outbreak at all…As we search for more information about this outbreak, we will do our best to follow the CDC's own advice and provide timely and accurate information for the public.
The CDC's report on this outbreak—and on similar ones that occurred previously—simply identify the source as "Mexican-style fast food Restaurant Chain A."
Don't we have the right to know the source of the outbreak so we can choose not to go there?
Food safety lawyer Bill Marler illustrates the importance of this question with an analogy:
I wonder if public health officials would have identified the actual restaurant (McDonalds) in the 1982 E. coli O157:H7 outbreak if the 1993 Jack in the Box E. coli O157:H7 outbreak would have happened?
So what's going on here with CDC?   Again, Food Safety News comes through with an insightful explanation by Ray Costa, who works with companies on food safety issues:
When public health officials make mistakes in foodborne outbreaks, the industry suffers and the political fallout is extreme…We should not forget that local officials are closely tied to their communities in many ways.

Local health departments rely on revenue generated from the local food service industry. After many years, bonds form between local public health agencies and industry, naturally, and out of necessity.
But, he says:
In the end, honesty is the best policy during any outbreak of disease. When the investigator is guided by a careful analysis of data, an honest presentation of the facts and truthful explanation is all we can ask for…The public understands and forgives a mistake when it occurs out an abundance of caution to protect them, but there is no forgiveness for a failure to inform them and they suffer as a result.

The failure of CDC to name names is preventing the redress that victims rightfully have for damages and also reflects the power industry has to keep our investigators silent.
Food Safety News has promised to stay on this.  Its reporters are performing a great public service.