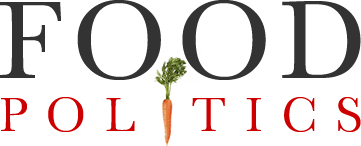 by Marion Nestle
Bill Marler on what is and is not working in the food safety system
The latest Salmonella outbreak comes courtesy of Pacific Coast Fruit Company, which produces Taylor Farms Organic Power Greens Kale Medley.
Alas, Salmonella do not care whether or not vegetables are USDA Certified Organic—even kale.
Coral Beach discusses the details of the investigation into this outbreak at Food Safety News this morning.
And food safety lawyer Bill Marler has some pointed questions about this outbreak.
 Why no announcement of the Salmonella Enteritidis outbreak?
 Why no recall of the product?
 Given that the product was distributed nationwide, are we seeing a spike in Salmonella Enteritis cases in states other than Minnesota?
Why was the announcement removed from Pacific Coast Fruit Website?
He also has plenty to say about what another recent outbreak (this one due to frozen vegetables contaminated with Listeria) tells us about what is and what is not working in our current food safety system.
His essay makes the point that foodborne illness outbreaks due to contaminated meat are becoming increasingly rare.  Most current outbreaks are due to contaminated vegetables.
How come?  For meat, the system is working.
Regulation: prevention controls on meat and poultry went into effect in the mid-1990s.
The CDC's ability to track outbreaks is good and getting better, thanks to genetic fingerprinting.
Government agencies are doing more testing.
The US Attorney's office has shown interest in "finding companies and their CEOs criminally responsible for manufacturing tainted foods.  Lawsuits and jail time have a unique ability to make companies pay attention."
Recalls are "both disruptive and expensive."
Publicity about recalls discourages the public from buying similar products.
In sum, "recall costs, slumping sales, along with civil and criminal liability, are powerful market incentives.   The FDA Food Safety Modernization Act (FSMA) should help once companies start following its regulations.
He ought to know.  When Congress was foot-dragging on passing FSMA, Marler sent every member of Congress a tee shirt with this image:
He better be careful.  If he's right about market forces cleaning up food safety problems, he may get his wish.
But we still have a long way to go on vegetable safety, apparently.