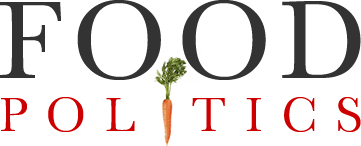 by Marion Nestle
Pepsi cuts 8,700 jobs; 4th quarter profits rise
Pepsi is about to put 8,700 of its worldwide employees out of work.   This might make you think the company is in trouble.
Let's have some fun with the numbers reported by Reuters in today's New York Times. 
Pepsi reports increases in:

Annual dividends: 4%
Expenditures on advertising: an additional $500 million
Expenditures on display racks: an additional $100 million
Fourth quarter profits: from $1.37 billion a year ago to $1.42 billion
Earnings per share: from 85 cents a year ago to 89 cents
Revenues: up 11% to $20.2 billion
Let's get the logic straight here:
PepsiCo made $1.42 billion in profits last quarter.
The company's revenues, profits, and returns to investors are increasing.
QED: it is adding 8,700 out-of-work people to an already depressed job economy.
Only Wall Street would view Pepsi's bottom line as problematic and its CEO, Indra Nooyi, as in trouble:
Ms. Nooyi has come under pressure from Wall Street for a stagnant stock price and a lagging North American beverage business. She has been criticized for taking her eye off the core business of sodas to expand into healthier products, such as hummus and drinkable oatmeal.
When it comes to Wall Street, forget about jobs and health.  Only one thing counts: meeting those quarterly growth targets.
Advocates for a healthier food system should not expect much help from food corporations.
They will only be able to help if forced to by public pressure and regulation.