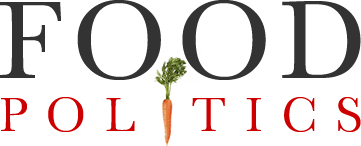 by Marion Nestle
Should the First Amendment protect the marketing of junk foods to kids?
For some time now, I've been arguing that legal scholars ought to be challenging the contention of food corporations that the First Amendment gives them the right to market foods any way they like, even to kids.
I simply cannot believe that the Founding Fathers of the United States intended the First Amendment for this purpose.
In December 2010, I urged public interest lawyers to examine current food marketing practices in the light of the First Amendment.  I am pleased to see that they are now doing so.
Samantha Graff of the National Policy & Legal Analysis Network to Prevent Childhood Obesity (NPLAN) forwards two co-authored articles published this month:
Health Affairs: Government Can Regulate Food Advertising to Children Because Cognitive Research Shows It Is Inherently Misleading, by Samantha Graff, Dale Kunkel, and Seth E. Mermin.
The childhood obesity crisis has prompted repeated calls for government action to curb the marketing of unhealthy food to children. Food and entertainment industry groups have asserted that the First Amendment prohibits such regulation.

However, case law establishes that the First Amendment does not protect "inherently misleading" commercial speech. Cognitive research indicates that young children cannot effectively recognize the persuasive intent of advertising or apply the critical evaluation required to comprehend commercial messages.

Given this combination—that government can prohibit "inherently misleading" advertising and that children cannot adequately understand commercial messages—advertising to children younger than age twelve should be considered beyond the scope of constitutional protection.
American Journal of Public Health: Protecting Young People from Junk Food Advertising: Implications of Psychological Research for First Amendment Law, by Jennifer L. Harris and Samantha K. Graff.
In the United States, one third of children and adolescents are overweight or obese, yet food and beverage companies continue to target them with advertising for products that contribute to this obesity crisis.

When government restrictions on such advertising are proposed, the constitutional commercial speech doctrine is often invoked as a barrier to action. We explore incongruities between the legal justifications for the commercial speech doctrine and the psychological research on how food advertising affects young people.
These papers are a great start to the conversation, as was a previous contribution from these authors: A Legal Primer for the Obesity Prevention Movement, American Journal of Public Health, 2009.
First Amendment scholars: weigh in, please.
And while pondering these questions, take a look at Raj Patel's piece in The Atlantic, "Abolish the food industry."  In his view, the First Amendment issue is a no brainer:
I side with the American Psychological Association in thinking that advertising to children is unconscionable. Rather than dwell on the First Amendment issue, which strikes me as an easy case to make, I think it's worth addressing a deeper question underlying the San Francisco cigarette-in-pharmacy ban: Why allow an industry that profits from the sale of unhealthy food at all?
Additions, February 14: Michele Simon sends links to additional information about this issue:
http://events.lls.edu/past/food-marketing-lr.html
http://www.appetiteforprofit.com/2011/01/27/why-the-happy-meal-is-already-illegal/
http://www.yaleruddcenter.org/resources/upload/docs/what/law/FTCFoodMarketingTV_JLME_3.10.pdf