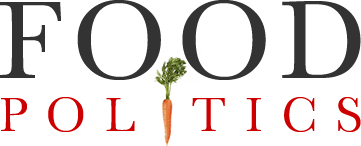 by Marion Nestle
The endless controversy over organics
I am a big fan of the Perishable Pundit, Jim Prevor, whose opinions on the produce industry I think are always worth reading whether I agree with them or not.  I check his site regularly.
I am also a big fan of organics.  I think research shows that organic production methods are kinder to soil, climate, and animals than industrial production methods.
So I was interested to read Perishable Pundit's interview with Dr. Steve Savage, an agricultural consultant in San Diego.
Q: Your detailed analysis of U.S. organic crops rattles the generally accepted notions about the size and potential growth of the organic market. Based on the latest USDA-NASS data, you make four key points:

Organic is a very small part of US agriculture.
Organic is significantly less productive on a per area basis.
Organic acreage, and to a greater extent, organic production, is skewed to the dry, Western states.
Farmers are paid higher prices for organic commodities, but when combined with lower productivity, gross income per acre is not always much higher and even sometimes lower.
Dr. Savage backs up these statements with additional data in a slide show from USDA.  You can look up both links and decide for yourself if you agree with his conclusions.
What impresses me about research on organic productivity is that its interpretation can be predicted by who is doing the interpreting.  I've seen, and review in my book What to Eat, plenty of research demonstrating that organics are only slightly less productive than industrial agriculture and at much lower cost to soil and the environment.
The USDA has long been an uncomfortable host for the National Organic Program.   This agency's job is to support industrial agriculture and organics are indeed small in comparison.
But organic production is an explicit critique of industrial agricultural systems.  Organics get higher prices.  And their sales are increasing.
No wonder USDA and representatives of industrial systems don't like organics much and do everything they can to find fault with it.
Sure there are faults to find:
Weak and inadequately enforced standards
Endless pressure to add industrial chemicals to the approved list and further weaken the standards
Expenses that few small farmers can afford
Inadequate protection from contamination with genetically modified crops
Suspicions about the equivalency of standards for imported organic foods
Bad apples who make things difficult for farmers who are doing things right
USDA ought to be doing all it can to work with organic producers to fix these problems.  To its credit, USDA recruited undersecretary Kathleen Merrigan to try.
She just announced an agreement between the U.S. and the E.U. to recognize each other's organic standards, thereby opening the European market to American organics.   USDA reports that the organic industry is delighted with the opportunity for new market possibilities.
Experts can argue whether organics are slightly or substantially less productive but they are demonstrably better for soil and the environment.  I think that matters.
Comments are welcome.