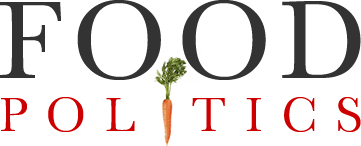 by Marion Nestle
Resources on the farm bill: Dissenting and otherwise
The spring 2012 issue of Dissent is devoted in part to food politics.  It includes my article Utopian Dream: A New Farm Bill.
In this same issue, Sarah Leonard offers Nature as an Ally: An Interview with Wendell Berry.
The legal advocacy group, Public Health Law and Policy, has produced two useful resources on the farm bill:
The Institute for Agriculture and Trade Policy is doing a series on What's at Stake in the Farm Bill.
Oxfam America has a report and infographic on what the farm bill needs to do about international food aid.
And don't forget:
Daniel Imhoff's, Food Fight: The Citizen's Guide to the Next Food and Farm Bill, Watershed Media, 2012: This is the stunningly illustrated second edition of Imhoff's lucid explanation of the farm bill and the vast number of issues it covers.