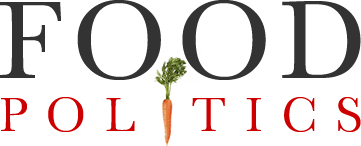 by Marion Nestle
Three terrific books about feeding kids
Karen Le Billon, French Kids Eat Everything: How our family moved to France, cured picky eating, banned snacking, and discovered 10 simple rules for raising happy, healthy eaters, HarperCollins, 2012.
I blurbed this one: It takes a brave couple to move two picky-eater kids to a small French town and convert them to foodie omnivores.  North Americans have much to learn from European food traditions, and the contrast between French and North American school lunches is a striking example.  A must-read for teachers as well as parents.
Jeannie Marshall, Outside the Box: Why Our Children Need Real Food, Not Food Products, Random House, 2012.
I blurbed this one too: Outside the box is about teaching kids how to appreciate real food but also about how globalization is changing the way the world eats.  In this beautifully writeen book about what needs to be done to preserve food culture in Italy and elsewhere, Marshall makes the political personal as she explains how she is teaching her son to enjoy the pleasures of eating food prepared, cooked, and lovingly shared by friends and family.
Bill and Claire Wurtzel, Funny Food: 365 Fun, Healthy, Silly, Creative Breakfasts, Welcome Books, 2012.
I wasn't asked to blurb this one, but like it anyway:  Your kid doesn't want to eat real food for breakfast?  No excuses.  This book illustrates 365 breakfasts made of eggs, toast, cereal, pancakes, fruit, cheese, yogurt, and other good things.  These are presented as faces, animals, and toys so easy to do that even a time-challenged parent can whip them up in a second.  I can't imagine any kid resisting eating foods like these.    Silly, absolutely.  Worth it?  Give it a try.