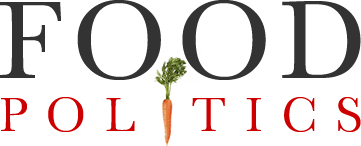 by Marion Nestle
GAO says U.S. food safety system needs work, resources
The Government Accountability Office is complaining again about the inadequacies of the American food safety system, and with good reason.
Its 2012 Annual Report, Opportunities to Reduce Duplication, Overlap and Fragmentation, Achieve Savings, and Enhance Revenue, says that the food safety system is:
fragmented and results in inconsistent oversight, ineffective coordination, and inefficient use of resources.

In 2007, GAO added food safety to its list of high-risk areas that warrant attention by Congress and the executive branch.

More recently GAO found that this fragmentation extends to the responsibilities across multiple agencies to defend food and agricultural systems against terrorist attacks and natural disasters…Many of these activities are everyday functions or part of the broader food and agriculture defense initiative and would be difficult for the agencies to separately quantify.
This report repeats what the GAO has been saying since the early 1990s:
there is no centralized coordination to oversee the federal government's overall progress in implementing the nation's food and agriculture defense policy.

Because the responsibilities outlined in this policy (HSPD-9) are fragmented and cut across at least nine different agencies, centralized oversight is important to ensure that efforts are coordinated to overcome this fragmentation, efficiently use scarce funds, and promote the overall effectiveness of the federal government.
Reminder: the present food safety system is mainly divided between two agencies: USDA (meat and poultry) and FDA (everything else).
Centralized oversight of food safety?  What a concept.