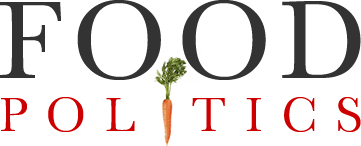 by Marion Nestle
Are food companies part of the solution to obesity?
The June 2012 e-mailed newsletter from the International Association for the Study of Obesity (IASO) quotes from a speech by IASO's Tim Lobstein at the recent Nordic Nutrition Conference. 
Dr Lobstein suggests that claims by large food companies to be an essential part of the solution  to obesity should be challenged.
These companies do not manufacture essential food items….They produce branded, mass-produced, processed snacks and beverages which are not necessary in a healthy diet.

Such companies should not be claiming a right to be included in policy decisions, and should not be displacing producers of healthier foods, such as fruit and vegetable growers, who are a legitimate part of the solution.
Think of that the next time you see ads from the American Beverage Association?