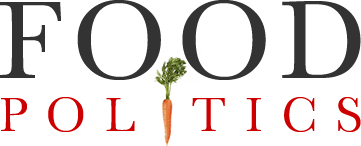 by Marion Nestle
Summer reading: reports on diet and health
It's the (relatively) quiet season and I'm getting caught up on reports coming in.   Here are two.
1.  The Bipartisan Policy Center, a group founded by former cabinet secretaries, has come up with a plan to improve the health of Americans: Lots to Lose: How America's Health and Obesity Crisis Threatens our Economic Future.   The Executive Summary is online, but the website is difficult to navigate and you have to log into Facebook to read the entire report.
The report calls on the public and private sectors to collaborate in creating healthy families, schools, workplaces and communities. Some of the recommendations are aimed at the food environment, rather than individuals, which is good.  And they are addressed to families, schools, workplaces, communities, and farm policy.  But like most such reports this one does not explain how any of its recommendations might be achieved.
2.  The Rudd Center at Yale has produced Cereal Facts, a study showing that cereal companies:
Increased media spending on child-targeted cereals by 34% from 2008 to 2011, mainly on the least nutritious products.
More than doubled spending in Spanish-language media.
Improved overall nutritional quality of 13 of 14 brands advertised to children by 10 percent on average.
Sponsor TV ads that typically promote products containing one spoonful of sugar for every three spoonfuls of cereal.
Two more findings of interest:
In 2011, the average 6- to 11-year-old saw more than 700 TV ads for cereals.
Although General Mills and Kellogg do make nutritious products that are marketed to parents, they do not advertise those products to children.
Watch the video!