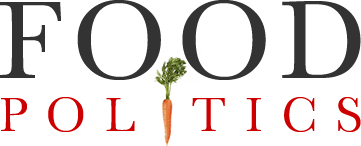 by Marion Nestle
What's holding up the new food safety regulations?
A full-page ad in Tuesday's New York Times (July 17) alerts readers to the astonishing 18-month delay in issuing food safety rules authorized by the Food Safety Modernization Act passed by Congress at the end of 2010.
The sponsor of the ad, Make Our Food Safe, is a coalition of highly respected public health and advocacy groups working on food safety issues.
According to the New York Times report, they are baffled by the delay.
But the F.D.A. rules that are needed to carry out the law have been under review by the Office of Management and Budget in the White House since December, and consumer health advocates say there has been no explanation for what they describe as a lengthy delay.

….Before the rules become official, the F.D.A. still has to circulate them for public comment, adding more months to the process. The rules for importers were expected in January and for domestic food processors in July, advocates said.
Could the delay be due to election-year politics?  Advocates wonder if
Democrats may want to avoid the impression that government regulation is growing, a popular cause for attacks by Republicans.
The Office of Management and Budget denies this.
Moira Mack, a spokeswoman for the Office of Management and Budget, said that the agency coordinates suggestions from many institutions across the federal government, and that it is not unusual for the review process to take months. A regulation last year on dangerous snakes, for example, took about 10 months to clear, she said.
Oh come on.  These rules are about protecting the public from dangerous microbes.  They need to move.
The Make Our Food Safe website makes it easy to write President Obama to release the FDA's proposed rules.    Add your voice!