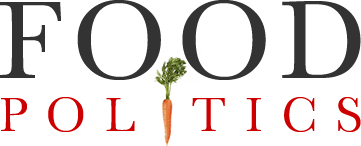 by Marion Nestle
Surprise! Kids who don't eat junk foods in school don't gain as much weight
I love the new study reported in Pediatrics.    It confirms just what I have long expected.  If you don't expose kids to junk foods and sodas, they won't eat as much, and they won't put on as much fat.
The study found that kids who go to schools where lots of junk foods are sold are heavier than those who go to schools in states with strict standards about the nutritional quality of snacks and drinks.
The investigators compared the body mass indices (BMIs) of kids in schools in 40 states with varying nutrition standards for what is allowed in "competitive" foods–those sold outside the lunch programs.
Kids from schools with stricter standards had lower BMIs.
The authors explain their result:
Experts argue that education will not suffice without changing the contemporary 'obesogenic' environment in which adolescents have countless sources of high-caloric-density, low-nutrient-density foods and beverages. Schools have become a source of sugar-sweetened beverages (SSBs), candy, and other foods and beverages of minimal nutritional value.
Food Chemical News (August 14) reminds me that when Congress passed the Healthy, Hunger-Free Kids act of 2010, it authorized the USDA to develop nutrition standards both for meals—but also competitive foods.
USDA issued final rules for school meals in January (remember the fuss over pizza is a vegetable?).
Its rules for competitive foods were sent to the White House Office of Management and Budget in mid-March, but are still stuck there, most likely because the White House does not want to introduce regulations that might adversely affect food company sales during an election year, especially one in which the role of government is so prominent an issue.
This is an election year, in case you haven't noticed, and looks like it will be an especially unattractive one, unfortunately.