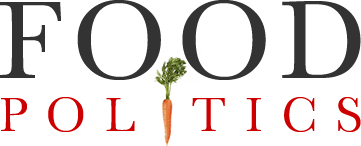 by Marion Nestle
Rest in peace George McGovern
Former Senator (D-SD) George McGovern died yesterday at age 90.
His accomplishments as a Senator and statesmen were legion, many of them strongly connected to food politics.
As I mentioned in 2009 when I gave the state department's annual George McGovern lecture in Rome, he chaired the Senate Select Committee on Nutrition and Human Needs from 1968-1977.   This committee greatly expanded food assistance programs and then developed the first federal guidelines for chronic disease prevention: Dietary Goals for the U.S.
In Food Politics, I described the work of this strongly bipartisan committee (Bob Dole was its lead Republican member) and how it did so much to improve the lives of women and children living in poverty in the United States, and of poor people throughout the world.
The committee also broke new ground in shifting nutrition education from a focus on eating more of a variety of foods to eating less of foods that increased risks for chronic disease.
What's shown here is the February 1977 version of this landmark report.  As the result of outraged protests by food producers affected by the "eat less" messages, the committee was forced to tone down its recommendations.  The committee issued a revised report in December that year.
That was the committee's final act.  Congress disbanded it and McGovern lost his bid for reelection.
McGovern leaves an extraordinary legacy, one unimaginable in this era of partisan politics.
He was far ahead of his time, as this 1977 photo shows.  It is a fitting tribute.