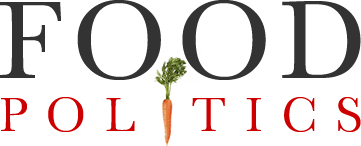 by Marion Nestle
What to do about front-of-package food labels?
The British Food Standards Agency has just announced a new front-of-package voluntary labeling system to go onto food packages next year, maybe.
The exact design is still uncertain, but it might look like this:
Compare this to the scheme Mark Bittman suggested in the Sunday Times last week.
Bittman's idea does way more.  He suggests one design to
Rate foods on the basis of nutrition, "foodness" (an index of the extent of processing), and welfare (of everyone and everything)
Give them an overall score and a traffic light ranking (green, yellow, red)
Note whether they contain GMOs or not
Here's how it would look:
Recall that the FDA recruited the Institute of Medicine to recommend a new labeling scheme.  It did just that a year ago, in a report advising the FDA to restrict front-of-package labels to information about calories, saturated and trans fat, sugar, and salt.
Since then, the FDA has said not a word about its food labeling initiative (More research needed? Election-year politics?)
In the meantime, Whole Foods has implemented its own new traffic light labeling scheme, but without those pesky red symbols well established to discourage sales.  If the food doesn't rate a green or yellow symbol, it won't have anything on it.
Everybody is doing food rating systems.  The owner of Rouge Tomate has developed SPE certification for restaurants, a system based on "Sourcing, Preparing, and Enhancing philosophy and culinary techniques."
All of the people doing rating and certification systems set up their own criteria, and all differ.
Are these systems helpful?  Only if you trust that they are meaningful.  I don't know how to find that out without doing a lot of research.
Readers: Do you like these systems?  Use them? Find them helpful?  I don't, but am willing to be persuaded otherwise.