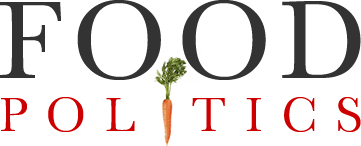 by Marion Nestle
The FTC says no to POM Wonderful's health claims
The Federal Trade Commission (FTC) just ruled that POM Wonderful's claims for the health benefits of its pomegranate juices and products are indeed deceptive.
The FTC also said POM cannot claim that its products do anything special for heart disease, prostate cancer, and erectile dysfunction—unless it produces convincing evidence for these claims through two randomized, controlled clinical trials.
The dispute over POM's health claims has gone on for more than two years.  The FTC says POM has not proved that drinking its juice will cheat death.
POM says it has spent $35 million on peer-reviewed research proving that the antioxidants in pomegranate products promote health.
Of course they do.  Antioxidants in all fruits and vegetables promote health.
Maybe POM should resort to the defense used by Coca-Cola against charges that Vitamin Water makes deceptive health claims.
As Stephen Colbert reports, Coca-Cola's argues: "No consumer could reasonably be misled into thinking Vitaminwater was a healthy beverage."
Once again: health claims are about marketing, not health.
Expect POM to take the FTC to court over this ruling.  Stay tuned.