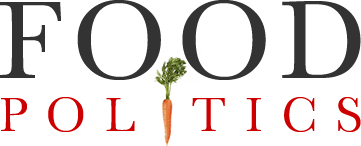 by Marion Nestle
Drug corporations 1, Bees 0
Everybody is, or should be, worried about the health of bees.  Without them, we don't have pollinated agriculture.
Bees, the New York Times tells us in an astonishing statistic, "pollinate 71 of the 100 crops that provide 90 percent of the world's food."
Bees are not doing well, and nobody really knows why.  Could colonies be collapsing because of a virus?  Mites?  Stress?  Or, as in the case of a leading hypothesis, insecticides used on crops?
Europeans worried about a particular class of highly effective insecticides widely used in production agriculture—neonicotinoids—proposed to restrict their use in flowering crops for two years.
But the European Union voted today to allow use of neonicotinoids to continue, even though the European Food Safety Authority recommended against this.
Also as discussed in the New York Times,
Companies that produce neonicotinoid-based pesticides, including the German giant Bayer CropScience and Syngenta, the big Swiss biochemical company, have lobbied strenuously against the moratorium. Monsanto incorporates the chemical into some of the seeds it produces; in the United States, neonicotinoids are heavily used on the country's huge corn crop.
Some nations in Europe already restrict use of these insecticides, but not all.
The Times quotes officials of companies that make neonicotinoid insecticides, Bayer and Syngenta.  The officials say:
The science is uncertain.
Banning them would jeopardize agricultural competitiveness.
Prices of food, feed, fiber and renewable raw materials would rise.
50,000 jobs would be lost.
This comes right out of the standard industry playbook.  Anything that harms bees in the short term has long term consequences.  Shouldn't officials be looking at long-term strategies for protecting bees.  Bees need help!  And so will we, if we don"t help them now.