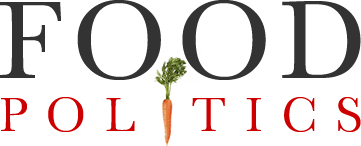 by Marion Nestle
FDA vs EWG: Report on antibiotic-resistant superbugs in meat oversimplified, misleading?
Earlier this month, the Environmental Working Group (EWG) issued a report on antibiotic-resistant bacteria in meat: Superbugs Invade American Supermarkets.
Its message:
Consumers have a right to know that federal scientists are finding antibiotic-resistant bacteria on retail meat in high percentages.
The report must have struck a nerve.  The FDA has now posted a rebuttal on its website, along with the agency's interpretation of data in the 2011 Retail Meat Annual Report of the National Antimicrobial Resistance Monitoring System (NARMS).
The EWG, says FDA, "oversimplifies the NARMS data and provides misleading conclusions."
The FDA particularly objects to EWG's use of the term "superbugs."
We believe that it is inaccurate and alarmist to define bacteria resistant to one, or even a few, antimicrobials as "superbugs" if these same bacteria are still treatable by other commonly used antibiotics.
The FDA says the NARMS data show:
No fluoroquinolone resistance in Salmonella from any source (the drug of choice for treating adults with Salmonella).
Resistance to trimethoprim-sulfonamide is also low (0% to 3.7%).
Fluoroquinolone resistance in Campylobacter has remained essentially unchanged since it was banned for use in poultry in 2005.
Macrolide antibiotic resistance in retail chicken isolates remains low (this is the drug of choice for treating Campylobacter)
Multidrug resistance is rare in Campylobacter except that gentamicin resistance increased from 0.7% in 2007 to 18.1% in 2011.
Resistance to third-generation cephalosporins, which are used to treat salmonellosis, increased in Salmonella from chicken (10 to 33.5%) and turkey (8.1 to 22.4%) from 2002 to 2011.  FDA has already taken action by prohibiting certain extra-label uses of cephalosporins in cows, pigs, chickens and turkeys.
The EWG's response to the FDA's rebuttal:
This is the best the agency can do?

It has been failing to protect the public health on this issue for 40 years, only recently issuing a voluntary guidance to scale back on the worst antibiotic abuses.
What are we to make of this dispute?
Beyond questions about how best to frame antibiotic resistance, some facts are clear.
Most antibiotics in the United States are used as growth promoters for raising meat animals, not as treatment for infections in animals or people.
Frequent use of antibiotics selects for and promotes the growth of antibiotic-resistant bacteria.
Infections with antibiotic-resistant bacteria are difficult to treat, and sometimes very difficult to treat.
It would be better for public health to end the use of antibiotics as growth promoters.
The FDA's current stance on use of animal antibiotics appears to be more about protecting the meat industry than about protecting public health.
While waiting for the politics to get better (and this might be a long wait), the EWG has some tips for avoiding antibiotic-resistant bacteria in meat.  I can't think of a single good reason not to follow these recommendations, except that they place the burden of avoiding antibiotic-resistant bacteria on you rather than on the meat industry.
That's why EWG's advice to Be Vocal makes especially good sense:
Be vocal: 
When you're eating out: 

ask if the meat was raised without unnecessary antibiotics. 

"At the doctor's office: 

don't press for unnecessary antibiotics. 

With your friends: 

share this tip sheet or a wallet guide with them. 

"Make your voice heard: 

Go to ewg.org/antibioticsaction to find out

how you can help preserve the effectiveness of antibiotics [Try www.ewg.org–the link given here doesn't seem to work].