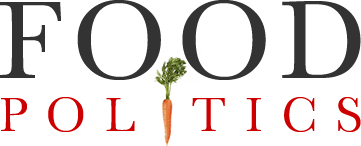 by Marion Nestle
What I'm reading about the farm bill: sarcastic, sober, troubling
The best recent analysis of what's happening with the farm bill comes from Tom Laskawy on Grist.
For one thing, it has a great title: "Undead farm bill: Everyone's favorite legislative zombie shuffles on."
For another, it makes a troubling point: if Congress fails to pass a farm bill, the good parts go out with the bad.
Actually, the question really is whether Congress will ever pass a farm bill again. For the first time, those close to the legislative process are starting to have their doubts. And that may be a really bad thing.

Bah, humbug, you say! The farm bill is larded with bipartisan subsidies for the largest-scale farmers who grow commodities like corn, soy, and cotton. It's also the bill that authorizes the federal crop insurance program, which has grown like gangbusters over the last decade. Last year (thanks to the drought) farmers received over $17 billion in insurance payouts — almost all of which benefited large-scale commodity agriculture. A chicken pox on all their coops!

That not an unreasonable reaction. But also at stake in the farm bill are billions of dollars for conservation programs that help farmers mitigate the environmental effects of their work, and pay them to set aside marginal farmland as wildlife habitat. It also contains millions in federal funds that support organic farmers, help younger and "new" farmers get their start, and prop up local food efforts, organic research, and farmers markets.
What's good in the current farm bill draft?  The Specialty Crop Farm Bill Alliance (which represents growers of fruits, vegetables, nuts) summarizes:
Specialty Crop Block Grants funded at $72.5 million in fiscal 2014-2017 and $85 million in FY2018
Specialty Crop Research Initiative funded at $50 million in FY2014-15; $55 million in FY 2016-2017; and $65 million in FY2018
Coordinated Plant Management Program funded at $62.5 million in FY2014-2017 and $75 million in FY2018
Market Access Program and Technical Assistance for Specialty Crops fully funded at 2008 Farm Bill levels
Fresh Fruit and Vegetable Program fully funded at 2008 Farm Bill levels
Section 32 specialty crop purchases at 2008 levels
DoD Fresh program fully funded at $50 million per year consistent with 2008 Farm Bill levels
Dan Flynn of Food Safety News compares
the amount of time spent on the farm bill to the Korean War and explains the meaning of its  proposal to transfer "non-inspection" of catfish from USDA to FDA.
Here are the bills:
This is all so disheartening.  Eternal optimist that I am, even I am having trouble with this one.