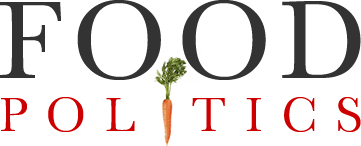 by Marion Nestle
Let's Move!'s latest: Sesame Street characters free to produce marketers
Coming soon to a supermarket near you: Sesame Street characters on packages of vegetables.
The Let's Move! press release begins:
Washington, DC – As part of First Lady Michelle Obama's Let's Move! initiative, Mrs. Obama today joined Sesame Street's Elmo and Rosita to announce that Sesame Workshop and the Produce Marketing Association (PMA) joined the Partnership for a Healthier America (PHA) in a two-year agreement to help promote fresh fruit and vegetable consumption to kids, making those healthy choices a little easier for busy parents and families to make.

The agreement allows PMA's community of growers, suppliers and retailers to utilize the strength and influence of the Sesame Street brand without a licensing fee, using characters like Big Bird, Elmo, Rosita and Abby Cadabby to help deliver messages about fresh fruits and vegetables. Sesame Street characters may be on produce in stores as early as mid-2014.
This is big news.  Let's Move! is attempting to level the marketing playing field and give fruits and vegetables a competitive edge.
I, of course, have mixed feelings.  I've long been on record as opposed to marketing anything to kids, whether good, bad, or indifferent.
Marketing is not education. Education is about imparting knowledge and promoting wisdom and critical thinking.
Marketing is about creating demand for a product.
Children are demonstrably unable to tell the difference or, for that matter, to distinguish marketing from entertainment.  That is why marketing to children crosses an ethical line.
But if the foods are healthy, don't the ends justify the means?  Isn't anything that gets kids to eat healthy foods worth doing?  After all, kids live in a marketing environment, so marketing might as well be used to do good rather than harm.
This is the rationale behind the marketing of baby carrots with "eat 'em like junk food" ads.  Reportedly, these ads increased sales of baby carrots.

But perhaps this campaign also reinforced the idea that kids are only supposed to eat foods that come with cartoons or toys?
I'd like to see the data on the long-term effects of the campaign on sales, whether sales dropped when the commercials stopped, and whether they affected kids' attitudes toward eating vegetables in general.
In the meantime, this will be an interesting experiment.  I'm hoping researchers are ready to go, have their evaluation methods in place, and are already collecting baseline data.
Also in the meantime, ProPolitico writers Byran Tau and Helena Bottemiller Evich point out that "Michelle Obama policy initiatives are a big deal for big business."   Their article begins:
The latest Let's Move! event is brought to you by the letter K. As in K Street."
It explains how:
corporate America's biggest players…stand to benefit from exposure, public goodwill generated from being involved in a public health or charitable effort or the policy itself.  Big lobbying forces and major industry groups like the American Beverage Association, the International Bottled Water Association, the Food Marketing Institute, the Grocery Manufacturers Association, the National Restaurant Association, the U.S. Chamber of Commerce and many others have all worked closely with the East Wing on those initiatives, both of which heavily focus on private sector contributions.
If kids eat more healthfully for the next couple of years as a result of this campaign, it will be hard to do anything but applaud it.
Although the questions raised by this campaign are uncomfortable, I'm going to try to keep an open mind and wish it the very best of success.
Addition, October 31: Obamafoodorama's eyewitness account includes the First Lady's press release.