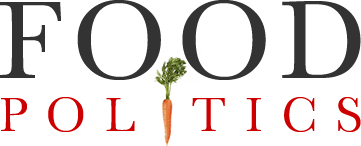 by Marion Nestle
Monsanto has a public image problem? A surprise?
Thanks to Politico for alerting us to Monsanto's sudden discovery:  it has just recognized—can you believe this?—that it has a public image problem.
In recent months the company has shaken up its senior public relations staff, upped its relationship with one of the nation's largest public relations firms and helped launch a website designed to combat the fallacies surrounding genetically modified organisms.
Monsanto revealed its public image worries in its annual filing to the Securities and Exchange Commission.  The SEC requires companies to list societal factors that create risk to its profitability. Monsanto's first three:
1.  Threats to patent rights
Efforts to protect our intellectual property rights and to defend claims against us can increase our costs and will not always succeed; any failures could adversely affect sales and profitability or restrict our ability to do business.
Intellectual property rights are crucial to our business, particularly our Seeds and Genomics segment. We endeavor to obtain and protect our intellectual property rights in jurisdictions in which our products are produced or used and in jurisdictions into which our products are imported.
2. Too much regulation
We are subject to extensive regulation affecting our seed biotechnology and agricultural products and our research and manufacturing processes, which affects our sales and profitability.
Regulatory and legislative requirements affect the development, manufacture and distribution of our products, including the testing and planting of seeds containing our biotechnology traits and the import of crops grown from those seeds, and non-compliance can harm our sales and profitability.
3. Bad public relations
The degree of public acceptance or perceived public acceptance of our biotechnology products can affect our sales and results of operations by affecting planting approvals, regulatory requirements and customer purchase decisions.
Some opponents of our technology actively raise public concern about the potential for adverse effects of our products on human or animal health, other plants and the environment. .. Public concern can affect the timing of, and whether we are able to obtain, government approvals.

Even after approvals are granted, public concern may lead to increased regulation or legislation or litigation…which could affect our sales and results of operations by affecting planting approvals, and may adversely affect sales of our products to farmers, due to their concerns about available markets for the sale of crops or other products derived from biotechnology.
Maybe if the company was less aggressive about defending itself against risks #1 and #2, public relations would be less of an issue.
Do the close calls on labeling initiatives in California and  Washington worry Monsanto?  Of course they do.  They should.
I was on the FDA food advisory committee in 1994 and witnessed Monsanto's aggressive opposition to labeling.
If public image is a problem for the company, it has nobody to blame but itself. 
The only surprise:  Why did public demands for labeling take so long?