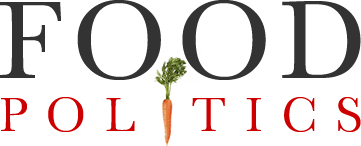 by Marion Nestle
Yes, the environment does influence food choice
I'm in Washington, DC this week on a bit of book tour for Eat, Drink, Vote (see Appearances for schedule).
At my Politics & Prose bookstore event last night, I got asked why I think the food environment matters so much in dietary choice.  Isn't food choice a matter of personal responsibility?
It is, of course, but the food environment greatly influences personal choice.
Two examples:
Large portions: just about anyone presented with a large portion of food with eat more from it, take in more calories (larger portions have more calories!), and underestimate the calories consumed by a much greater proportion than from a smaller amount.

Salt intake: Because 80% or so of salt in the American diet comes from processed and restaurant foods, people eating in restaurants have no control over the amount of salt they take in.
To make it easier for people to take in fewer calories and less salt requires changes in the food environment: serve smaller portions and reduce the salt in restaurant foods.
FDA: Get to work!