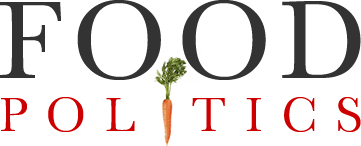 by Marion Nestle
The food label proposals: some follow-up items
Release of the FDA's proposals for revisions of the Nutrition Facts label got, to say the least, lots of attention.
A few items need some follow up.
The politics
The best discussion of the First Lady's involvement in the new food label comes from Helena Bottemiller Evich at Politico:
The reaction of the Grocery Manufacturers Association (GMA)
How's this for a brilliant response?
We welcome First Lady Michelle Obama's announcement of the proposed updates to the Nutrition Facts panel and thank her for her leadership on this and broader health issues.  The nation could not ask for a more thoughtful, effective or passionate advocate than Michelle Obama.

For 20 years, the Nutrition Facts panel has been an invaluable tool to help consumers build more healthful diets for themselves and their families, and the time is right for an update.

Diets, eating patterns and consumer preferences have changed dramatically since the Nutrition Facts were first introduced.  Just as food and beverage manufacturers have responded by creating more than 20,000 healthier product choices since 2002, and by providing tools like Facts Up Front front-of-pack labels, the FDA is responding with a thoughtful review of the Nutrition Facts panel.

We look forward to working with the FDA and other stakeholders as these proposed updates to the Nutrition Facts label make their way through the rule making process.

It is critical that any changes are based on the most current and reliable science.  Equally as important is ensuring that any changes ultimately serve to inform, and not confuse, consumers.
How you can file comments
A frustrated reader complains that he can't find information on the FDA's website about how to file comments.     That's because the proposals haven't been published yet.
They are scheduled for publication in the Federal Register on March 3.  Look for instructions then.  After that, the FDA will collect comments for 90 days.
Two sets of proposed rules will be open for comment:
Start drafting comments now!