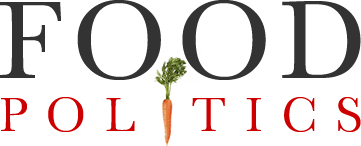 by Marion Nestle
Oops. WIC rules for yogurt permit loads of added sugar
After my post earlier this week about the USDA's final rules for the WIC program, I heard from Tracy Fox, who heads a food and nutrition policy consulting firm in Washington, DC.
She wrote: "Did you see the amount of total sugar they are allowing in the yogurt provision?  Up to 40 grams per 8 ounces."
Oops.  She's right.
The sugar rules for WIC yogurt
The rules say:
As recommended by the IOM, yogurt must conform to the standard of identity for yogurt as listed in Table 4 of 7 CFR 246.10(e)(12) and may be plain or flavored with ≤ 40 grams of total sugar per 1 cup of yogurt.
The IOM reference is to the Institute of Medicine's 2005 report, WIC Food Packages: Time for a Change.  On page 221, this report says:
Yogurt (must conform to FDA standard of identity…plain or flavored with ≤ 17 g of total sugars per 100 g yogurt.
Let's do the math
The standard serving size for yogurt in these rules is 8 ounces, or 226 grams.  At 17 grams of sugar per 100 grams, this allows for 38.4 grams of sugar per 8 ounces.  USDA must have rounded this up to 40.
But plain yogurt is already sweet.  It contains 16 grams of lactose sugar in 8 ounces.
The rules allow for an additional 24 grams of sugar per 8 ounces—6 teaspoons!
But most yogurt comes in 6 ounces containers
In 2003, yogurt makers shrunk the package size to 6 ounces as a cost-saving measure.
A 6-ounce yogurt contains 12 grams of lactose. 
So the rules allow for 18 grams of added sugars in 6 ounces—4.5 teaspoons.
The new Nutrition Facts label may help
It requires listing the amount of added sugars.
This may discourage government agencies from buying highly sweetened yogurts.
It may encourage yogurt makers to cut the sugar.
In the meantime, what to do?
Encourage the WIC program to buy plain yogurt.
Ask USDA to amend the regulations.
Make sure added sugars stays on the FDA's proposed rules (file comments here)