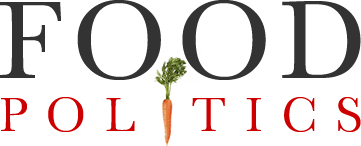 by Marion Nestle
Hot potato: congress micromanages WIC package
You would think that excluding white potatoes in the WIC package (because evidence shows that WIC participants already eat plenty of white potatoes) would be small potatoes, but not to the Maine potato lobby.
It has induced Congress to intervene on behalf of Maine potatoes.  And, according to Politico it seems to have the votes.
As I've said in a couple of earlier posts, this looks to me like Congressional unraveling of nutritional gains for the WIC program.
Rumors say that Republican congressional staff have told WIC officials that Congress intends to go after the program just as it went after SNAP, and that this time WIC "won't get off easy."
WIC is demonstrably successful in improving the nutritional status of participating women, infants, and children.
The WIC package—the foods that are eligible to be purchased with WIC vouchers—is based on science-based recommendations of the Institute of Medicine.
Politico quotes Robert Greenstein of the Center for Budget and Policy Priorities:
Members of Congress often say they want poverty programs to be more effective…Here, they are taking what's widely agreed to be one of the most effective programs and making it less effective in order to serve parochial interests…If Congress begins mandating what foods to include and exclude in WIC irrespective of the scientific findings…the floodgates will be open in the years ahead for other legislators to demand inclusion of other products that their states produce and that may generate substantial campaign contributions.
How about writing your congressional representatives and telling them to maintain the integrity of the WIC program.  If your representatives heard from enough constituents about this issue, they might not vote for it.
Even a quick e-mail would help.
Addition: Here's the letter from senators to USDA Secretary Vilsack.