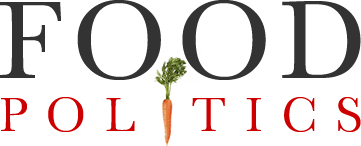 by Marion Nestle
The FDA, cheese boards, and public policy
Is the FDA at war with small, artisanal cheese makers?
I hope not.
But the FDA seems especially clumsy in its dealings with artisanal cheese makers over food safety issues.
The FDA has some legitimate concerns.  Milk is anything but sterile.  Salting and aging cheese kills pathogens but not always completely, and there is always a possibility of recontamination of the rind.
Like all food producers, cheese makers— no matter what their size—ought to be following standard food safety procedures.  Most do.
Even so, contamination happens.  That's why testing is such a good idea.   It can stop contaminated cheese from making customers sick.
Last week, an FDA official, Monica Metz,  set off a firestorm with a letter to the New York State Department of Agriculture and Markets,
The use of wooden shelves, rough or otherwise, for cheese ripening does not conform to cGMP requirements, which require that "all plant equipment and utensils shall be so designed and of such material and workmanship as to be adequately cleanable, and shall be properly maintained." 21 CFR 110.40(a). Wooden shelves or boards cannot be adequately cleaned and sanitized.  The porous structure of wood enables it to absorb and retain bacteria, therefore bacteria generally colonize not only the surface but also the inside layers of wood. The shelves or boards used for aging make direct contact with finished products; hence they could be a potential source of pathogenic microorganisms in the finished products.
The American Cheese Society immediately issued a rebuttal:
For centuries, cheesemakers have been creating delicious, nutritious, unique cheeses aged on wood.

Today's cheesemakers—large and small, domestic and international—continue to use this material for production due to its inherent safety, unique contribution to the aging and flavor-development process, and track record of safety as part of overall plant hygiene and good manufacturing practices. No foodborne illness outbreak has been found to be caused by the use of wood as an aging surface.
The FDA responded with a clarification
Recently, you may have heard some concerns suggesting the FDA has taken steps to end the long-standing practice in the cheesemaking industry of using wooden boards to age cheese. To be clear, we have not and are not prohibiting or banning the long-standing practice of using wood shelving in artisanal cheese. Nor does the FDA Food Safety Modernization Act (FSMA) require any such action. Reports to the contrary are not accurate.
Whew.  Hang onto those boards, but do keep them clean.
As for the FDA: it needs to go further and do a whole lot more to reassure artisanal cheese makers who are convinced that the agency is out to get them and put them out of business.