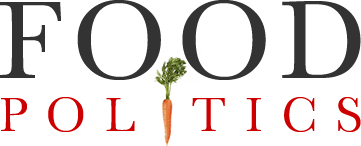 by Marion Nestle
Michele Simon's latest report: "Whitewashed" (she means dairy foods)
I always am interested in Michele Simon's provocative reports.  Her latest, Whitewashed, is no exception.  It's about how the government promotes dairy foods, no matter what kind or where they appear.
Read her blog post here.
Download the full report here.
Read the executive summary here.
Here's are some of the surprising (to me) findings detailed in the report:
About half of all milk is consumed either as flavored milk, with cereal, or in a drink;
Nearly half of the milk supply goes to make about 9 billion pounds of cheese and 1.5 billion gallons of frozen desserts–two-thirds of which is ice cream;
11 percent of all sugar goes into the production of dairy products.
Where the government enters the picture is through the "checkoff programs" for promoting milk and dairy.  These are USDA-Sponsored programs, paid for by dairy farmers through checkoff fees, but run by the USDA.
U.S. Department of Agriculture employees attend checkoff meetings, monitor activities, and are responsible for evaluation of the programs. The U.S. Supreme Court has upheld the legality of the checkoff programs as "government speech", finding: "the message … is controlled by the Federal Government."
The report has some interesting findings about the checkoff.  Although checkoff funds are supposed to be used for generic marketing, the dairy checkoff helped:
McDonald's make sure that dairy foods play an important role in product development.
Taco Bell introduce its double steak quesadillas and cheese shreds.
Pizza Hut develop its 3-Cheese Stuffed Crust Pizza and "Summer of Cheese" ad campaign.
Dominos add more cheese to its pizzas as a result of a $35 million partnership.
Domino's "Smart Slice" program introduce its pizza to more than 2,000 schools in 2011.
Promote "Chocolate Milk Has Muscle" and "Raise Your Hand for Chocolate Milk."
I like dairy foods, but should the government be doing this?