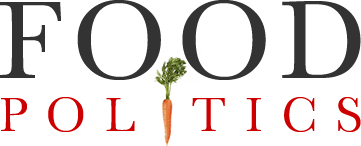 by Marion Nestle
FoodNavigator-USA's special edition on sodium reduction
I like the special editions of the business newsletter, FoodNavigator USA.  This especially big one collects its recent articles on sodium reduction—a big issue these days.   These give a good idea of how food companies are dealing with pressures to lower their salt content.
It's expensive, risky, and difficult, but manufacturers have made huge progress on sodium reduction in recent years. But how much further can they go, and where is the return on investment if consumers are at best indifferent to their efforts, or at worst downright suspicious?

This special edition explores the challenges of sodium reduction, and asks whether it's falling down the food policy agenda in the US, but also provides examples of creative solutions that can help manufacturers reduce it without compromising on taste or functionality.

Is sodium reduction falling down the food policy agenda?  Four years ago sodium was public enemy #1. The Institute of Medicine (IOM) was calling for the FDA to modify the GRAS status of salt and slash the daily value for sodium to 1,500mg, and the food industry was on high alert. Today, sugar is the new bogeyman, and while sodium intakes remain stubbornly high, the FDA has yet to issue voluntary guidelines. So is sodium reduction falling down the food policy agenda?

AHA education campaign pressures food manufacturers to reduce sodium: The American Heart Association says its recently launched consumer education campaign encouraging Americans to "break up with excess salt" seeks to "build an army of passionate and willing supporters" to pressure food manufacturers to reduce sodium in packaged foods.

Advanced technology eases sodium reduction efforts: Advances in technology can help firms more quickly and easily reduce sodium in breads and grain-based packaged foods – a previously repetitive and expensive trial and error process, according to Janice Johnson, food applications leader in salt at Cargill.

Will proposals to mandate potassium labeling on the Nutrition Facts panel give potassium-chloride based sodiumreplacers a shot in the arm?  Some food manufacturers still worry that using potassium chloride to replace salt in their recipes might compromise their clean label credentials. But the FDA's recent proposal to include potassium as one of the nutrients that must be listed on the Nutrition Facts panel is helping to change that mindset, says NuTek Salt.

Sodium reduction: has all the low-hanging fruit been plucked?  Food manufacturers are under increasing pressure to reduce sodium, but surveys suggest many shoppers are, well, not that bothered. So where does this leave firms plugging sodium reduction solutions?

Reformulation by stealth: Just 2% of new launches in salty snacks make overt sodium reduction claims: The vast majority of sodium reduction activity in the US food industry is now being conducted by 'stealth' in order to avoid alienating shoppers, according to Tate & Lyle.

Industry to FDA: Think again before setting category-by-category sodium reduction targets.  Two leading food industry associations have urged the Food and Drug Administration (FDA) not to set category-by-category limits for sodium amid rumors that the agency is planning to outline a new sodium reduction strategy this year.

Can seaweed become the ultimate salt replacer – and why hasn't it yet?  Seaweed is well-researched, sustainable and effective, according to an expert. So what is stopping it from really taking off as a salt replacer?

Mandatory salt reduction could save more in healthcare costs: Study.  Mandatory salt reduction may save more in healthcare costs than the current voluntary system, say the authors of a study published in Value in Health.

Myth busting? High salt intake may not increase thirst:  It is commonly believed that consumption of salty foods increases thirst, and could be a reason for increased consumption of sugary soft drinks and alcoholic beverages. But just how true is this notion?

Are salt reduction efforts reflected in heart health?  Salt reduction efforts around the world are making progress – but how has lower salt consumption affected health?

Salt substitutes help reduce blood pressure.  Efforts to reduce consumer blood pressure and risk of hypertension by replacing normal salt with blends of potassium chloride, magnesium sulfate and less sodium chloride are working, but may be more effective in countries where the majority of salt comes from home cooking, according to a meta-analysis in the December American Journal of Clinical Nutrition.

'Quiet' salt reduction is vital – but gourmet salt growth may stifle industry efforts.  Salt replacer use is growing but low salt claims are not, as food companies favour a 'quiet' approach – but growth in gourmet table salts may threaten salt reduction efforts.
­­­­