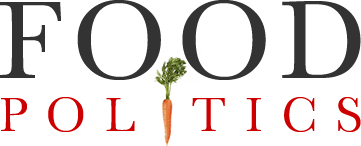 by Marion Nestle
Food politics in action: Potatoes!
The National Academy of Sciences' Institute of Medicine (IOM) has just recommended that white potatoes be included in the Special Supplemental Nutrition Program for Women, Infants and Children (WIC) program.*
This recommendation contradicts previous policy, which excluded white potatoes from the WIC package on the grounds that starchy vegetables are not lacking in the diets of WIC recipients and it would be better to use WIC to encourage consumption of a broader range of vegetables.
As I've discussed in earlier posts, the potato lobby objected, insisted that white potatoes were just as healthy as other starchy vegetables, and that women weren't eating enough of them.  It got Congress to overturn USDA's restrictions on the number of times white potatoes (usually fried) could be served in the school lunch program.
And it got Congress to order USDA  to put potatoes back into WIC—unless it conducted a study demonstrating that potatoes should be excluded.  The USDA gave up and told state agencies to allow potatoes to be purchased by WIC recipients starting next summer.
In deciding in favor of potatoes, the committee said it is concerned that ""Current consumption of starchy vegetables does not meet 2010 DGA [Dietary Guidelines for Americans] recommendations for this food group."
Really?  I have a hard time believing that WIC recipients are suffering from lack of potatoes in their diets.  Potatoes are fine foods, but highly caloric when prepared in the usual ways.  Encouraging WIC recipients to choose leafy greens and other vegetables seems like a good idea.
But the IOM committee took the 2010 Dietary Guidelines at face value and says this is what the rules are until changed.  So they effectively tossed this hot potato into lap of the 2015 Dietary Guidelines committee.
While waiting to see that committee's report—expected soon—the take-home lesson is clear: lobbying works.
*The USDA has a new report out on WIC: The WIC Program: Background, Trends, and Economic Issues, 2015 Edition.