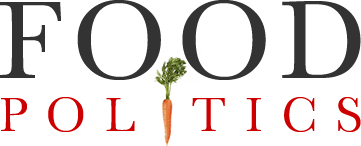 by Marion Nestle
The School Nutrition Association's bizarre saga continues
Nancy Huehnergarth and Bettina Siegel (the Lunch Tray) forwarded the latest information about the hard-to-believe efforts of the School Nutrition Association (SNA) to roll back USDA's nutrition standards, in particular those requiring school meals to serve fruits and vegetables.  Not everyone at SNA agrees with the leadership's retrogressive position on encouraging kids to eat their veggies:
You may be interested in this open letter, signed by 86 members of the School Nutrition Association (SNA) that was just forwarded to SNA's CEO and President…These 86 SNA members were courageous enough to sign the open letter even after SNA leaders sent an urgent email to all members urging them not to sign.

As you know, the SNA continues to work towards rolling back the Healthy, Hunger Free Kids Act nutrition standards, now through the upcoming Child Nutrition Reauthorization, as evidenced by their recently released 2015 position paper:
As to what all this is about, see Dana Woldow's explanation in Beyond Chron.  As she bluntly puts the matter,
It would be comforting to think that SNA members are making those decisions based on what is most nutritious and healthy for growing kids, but unfortunately they are just as likely to be influenced by the recommendations of Big Food companies peddling processed crap.
Dana also takes on the SNA's claim that the majority of its members want the nutrition standards rolled back.  She does the math and comes to quite a different result.
I continue to find it incredible that an organization of people whose job it is to feed school kids would do everything it can to make sure those kids are deprived of fresh, healthier foods, which is what the nutrition standards require.
SNA members: it's time to recall your leaders and install some who put kids' interests first.