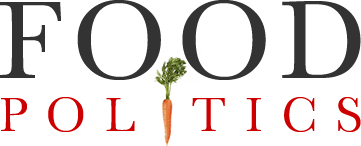 by Marion Nestle
Yes, you can buy Coke and Pepsi in Cuba
I've been in Cuba for the past week on a food sovereignty agricultural tour sponsored by Food First.
I will have more to say about this trip, but I'll start with my obsession with sodas (because of my forthcoming book, Soda Politics): Does the U.S. embargo prevent sales of Coke and Pepsi in Cuba?
Based on research for the book, I know that Cuba is one of the last remaining countries in which Coke and Pepsi cannot be marketed.  North Korea is another.  Myanmar used to be in that category, but came out of it a couple of years ago.
So I was fascinated to see this street cart in Old Havana (Coke hecho en Mexico):
And in a small market near the Hotel Nacional (Pepsi bottled in El Salvador):
And in a suburban supermercado outside of Havana (3-liter Cokes from Mexico):
As for soda marketing, it's only collectors' items.  These are on the wall of Paladar San Cristóbal, in Central Havana:
As I'll discuss in later posts, these are harbingers of marketing to come.