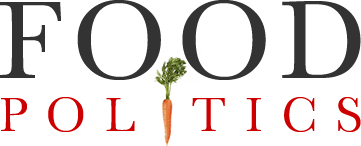 by Marion Nestle
Chartwells and DC schools
Sadie Barr, who writes about school food problems in Washington, DC, wants me and readers to know about the recent $19.4 million settlement paid to the DC school district by its food service provider, Chartwells.
For what?  Overcharging the schools for its meals.
In an e-mail to me, she writes:
The issue of school food fraud isn't new, and isn't unique to DC. It happened in New York in 2010 and in 2012, and is probably occurring within the quarter of school districts nationwide that outsource their food service. It was written about in the New York Times in 2011 and in an investigative report published in 2009. This fraud represents millions (if not billions) of public funds going toward a company's profits, instead of education.
How does this work?  Food service companies buy foods from manufacturers who give them kickbacks, but do not pass the savings along to the schools.
She points out that this scam affects quality of school food, posing a special burden to the more than 50% of students nationwide (it's more than 70% in DC) who qualify for free and reduced priced meals.
The lawyers negotiating the settlement were from Phillips & Cohen LLP, a firm that specializes in representing whistleblowers.  In this case, the whistleblower was Jeffrey Mills, director of food services for the DC public schools from 2010 to 2013.
The Phillips & Cohen press release quotes Mills as complaining that Chartwells overcharged the school district and also caused circumstances when "food was delivered late, the number of meals was insufficient or the food was of poor quality or spoiled."
Mills said that his goal had always been to improve food programs for DC's school children: "District funds should be used to feed students the best quality food at the lowest cost."
This is not the first time Chartwells got caught doing something like this.
In 2012, Chartwells' parent company, Compass Group USA, paid $18 million to settle allegations by the New York Office of the Attorney General that the company wrongfully retained rebates on purchases of food and non-food commodities made under contracts with 39 school districts in that state.
Phillips & Cohen also say:
The allegations made in the District's complaint and Mr. Mills' complaints are allegations only.   The allegations against Chartwells have not been adjudicated.  Chartwells denies liability for the allegations.
Maybe so, but the company agreed to the $19.4 million of the DC case.
If you are having trouble understanding the fights over the USDA's school nutrition standards, the Chartwells' case should help.
For food service companies and the companies that supply food products, there is lots of money to be made on school meals.
Addition, July 9: DC, it seems, is renewing its contract with Chartwells, according to the Washington City paper's story on Jeff Mills.
Addition, July 10:  The Washington City paper explains the politics of Chartwells in DC.