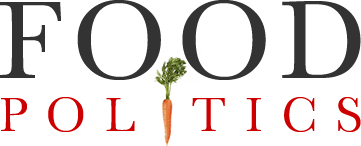 by Marion Nestle
Food availability and marketing in Cuba: a quick look
When I was in Cuba in 1992, the only food available to tourists was at the hotels: no restaurants, no street carts, no corner groceries, no family garden plots, no urban agriculture (for FAO information on Cuban food security, see this link).
On this Food First sovereignty trip, the big surprise was that restaurants were everywhere.  An outdoor restaurant in Old Havana's cathedral square!
Plenty of restaurants serve terrific food.
Some chefs, like Alejandro Robaina, at La Casa Restaurante (on the left), seem poised for a wildly successful TV career.
Cuban food invariably comes accompanied by lively music.
We saw farmers' markets throughout Havana.
These are explained as part of the revolution.
We saw specialty food shops in Old Havana.
Street sellers peddle food from carts.
But Cuba doesn't have much in the way of food manufacturing.  Small bodegas and even the large suburban Supermercado do not sell many products.  What they do have is mostly imported.  I saw some Cuban mayonnaise but couldn't find Cuban coffee anywhere except at the airport.
Even this Supermercado sells only one kind of item.  The oil is soy, bottled in Cuba from U.S. soybeans.
Many of the shelves are empty because of the U.S. embargo and for general lack of money.
A couple of anecdotes about how the Cuban economy is changing:
The revolution made everyone equally poor, although with excellent free education, health care, and a basic food ration (the libreta) that kept everyone from total starvation, even during the worst of the 1990s.  This created a relatively classless society.
First change: Remittances.  Many families who left Cuba to get away from the Castro regime did well and sent money ("remittances") to their relatives back home.  We were told that these amounted to $2 billion last year in total and that the money is transmitted via Western Union and couriers ("mules").
The average Cuban salary and pension is $20 per month.  A remittance of $100 a month makes that person rich.
Second change: Deregulation of real estate.  One of our speakers told us that when private ownership of housing was first permitted a decade ago, he bought a house for the equivalent of $650.  As soon as the rules changed and allowed market rates, he sold it last year for $150,000.
Cuba's contradictions are interesting to observe.  Go see them while you can.