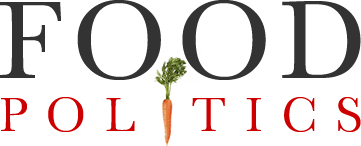 by Marion Nestle
Salt warning labels coming to New York City, December 1
Last month, the New York City Board of Health voted to require chain restaurants to publish warnings when menu items contain more than the recommended daily limit for sodium, thus taking the lead on regulating the amount of salt in foods.
Salt, says the city health department, is a leading cause of cardiovascular disease but also a leading driver of health disparities: blood pressure levels are higher in African-American populations.
The rule, which takes effect December 1, says that chains with 15 or more locations in New York City must display a warning symbol — a salt shaker inside a triangle — if the item has more than 2,300 milligrams of salt.
The policy does not restrict choice or limit how much sodium can be in food.
The New York State Restaurant Association (NRA) called the new rule "burdensome."
It issued a statement:
This is just the latest in a long litany of superfluous hoops that restaurants here in New York must jump through…Every one of these cumbersome new laws makes it tougher and tougher for restaurants to find success.
The health department estimates the regulation will apply to 10 percent of all menu items.  Some examplesof affected products (For the record, 40% of salt is sodium; for grams of salt multiply by 2.5):
Panera Bread Smokehouse Turkey Panini (2,590 mg),                  "
TGI Friday's sesame jack chicken strips (2,700 mg)
Regular-size Applebee's Grilled Shrimp 'n Spinach Salad (2,990 mg)
Subway footlong spicy Italian sub (2,980 mg)
Red Robin monster-size salted caramel milkshake (3,400 mg)
But the Salt Institute, a salt producers' trade group, called the policy "misguided":
This is another example of the government creating policy based on outdated, incorrect sodium guidelines that have been refuted by ten years of research. Research shows Americans already eat within the safe range of sodium consumption and population-wide sodium reduction strategies are unnecessary and could be harmful," said Lori Roman, President of the Salt Institute.
The consumer group Center for Science in the Public Interest said the proposed warnings "will prompt restaurants to use less salt and will help consumers reduce their risk of stroke or heart attack."
This one will be interesting to watch.  Will people pay attention?  Will chain restaurants take steps to reduce sodium levels?  Will hypertension levels decline?  I hope researchers are hard at work collecting baseline data.