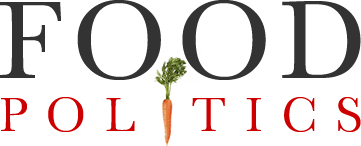 by Marion Nestle
San Francisco State vs. Pouring Rights Contracts
When I was in San Francisco last week, I met Janna Cordeiro and Real Food Challenge students from San Francisco State University (SFSU) who are taking on Big Soda.  As Janna explained in an e-mail,
Last spring, SFSU administration quietly released an RFP to solicit a corporate sponsor for Pouring Rights.

The Pouring Rights contract —for a 1 time minimum $2 Million donation and yearly $125K donation— not only includes 80% access to all drinks sold on campus, naming rights for the sports stadiums (and scholarships, seats, etc), access to students and alum for social media campaigns, access to STUDENT-owned campus center, and on and on BUT also an endowed chair in the school of the sponsor's choice. Pepsi Professor anyone?
She points out that "The students believe that the release of the RFP violated important shared governance agreements that guide the campus, and that it was intentionally kept very low profile."
She also notes that since San Francisco's soda tax campaign, several high profile policies limiting SSBs have been passed:
1) City of SF has passed 2 important pieces of legislation: warning label requirements on ads,  ban on use of city funds to purchase ssbs (including the many contractors such as Department of Children Youth and Families), and ban on sub ads on city property
2) The SFUSD passed a comprehensive wellness policy which bans all sugary drinks sold or offered on school grounds including fundraisers/festivals/ and staff/teachers drinking.
3) Most major hospitals are SSB free INCLUDING all of UCSF campuses and our public hospital.
This means:
Essentially, SFSU and our City College Campuses are the only public spaces where SSBs are sold or advertised. So, we can't let the SFSU administration go through with this, and this group of students from the Real Food Challenge SFSU are stepping up to fight back. Let's join them and show our support!  They have already organized demonstrations when PepsiCo and Coca-Cola were on campus for their presentations, but have much more planned. The also have a 15 page resolution that covers ALL the bases!
And here's her call to action:
What can you do?

Send them a letter of support for them to give the SFSU President Wong who has agreed to meet with them on Nov 19th in an open Town Hall mtg. email: realfoodchallengesfsu@gmail.com

If you're local, attend the Town Hall meeting at 12noon on 11/19. Location TBD. Invite on Facebook.

Follow on Facebook—  show your support and Tweet about it. I've been pushing out tweets on OpenTruthNow if you need ideas.

If you have connections, help them get high visibility MEDIA attention. Contact me directly, and I can send you the media contact. for the group.

Let's help them CRUSH Big Soda ! Student Rights not Pouring Rights!

Onwards!
Additions
November 13: The San Francisco Chronicle has a discussion of this action (I'm quoted)
November 19: The SFSU president drops the soda partnership proposal!