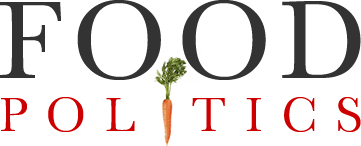 by Marion Nestle
The UK soda tax: a tipping point?
Wonder of wonders, the UK's Chancellor of the Exchequer, George Osborne, has put a soda tax into his new budget initiative (see BBC account, the video and text of Osborne's speech, and the Treasury department's fact sheet on the soda tax).
Here's how the tax is supposed to work:
Osborne says the tax will bring in £520 million ($732 million) in the first year, and he intends to use it to fund more sports in schools.
But it goes into effect in April 2018.  This is to give the industry time to reformulate products with less sugar.  But—the delay also gives the industry ample time to block the tax.
Public Health England supports the tax (see statement).
But the soda industry wasted no time reacting to this bad news.
Coke, Pepsi, and other soft drink companies strongly objected.
The immediate result: a fall in their stock prices.
The immediate reaction: Sue the government.  On what grounds?  Discrimination.  The tax does not affect sugary juices, milkshakes, or processed foods.
The makers of artificial and alternative sweeteners think this will be a win for them.
Will the tax help reduce obesity?  On its own, that would be asking a lot.
Jamie Oliver, the British chef who favors the tax, says of course it won't work on its own.  It needs to be accompanied by six additional actions (food labels, better school food, curbs on marketing to kids, etc.).
Why are soda companies so worried about this?  It could be catching.
Will the UK tax stick?  Watch Big Soda pull out every stop on this one.
And think about what they are doing to fight soda taxes when you read or hear that soda companies want to be part of the solution to obesity.