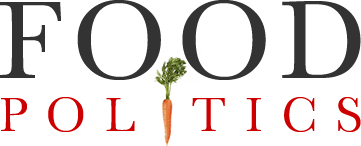 by Marion Nestle
Food politics: Mexico then and now
I'm in Mexico City doing talks for El Poder del Consumidor, the advocacy group in part responsible for Mexico's soda tax.  I had some time to be a tourist yesterday afternoon and got to see the Diego Rivera murals at the Palacio Nacional.
These are enormous, and stunning.  They deal with the history of Mexico in conflict and in peace.  Look closely, and you see Rivera's deep respect for Mexico's traditional food culture.
Along the corridor flanking the main mural, for example, is a painting above a plaque listing what the world owes Mexico—corn, obviously—but also beans, tobacco (oops), chocolate, hemp, and tomatoes.
Other panels also deal with corn—in this one, production.
Another shows how corn is used.
The corner panel at the end of the corridor is devoted to chocolate.
Along the way, quieter panels display the harvest of fruits and vegetables.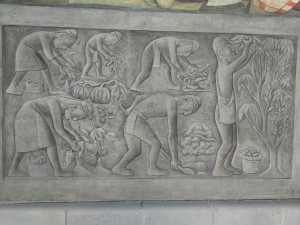 Leave the Palacio, cross the Zócolo, and you come to the Coca-Cola bar and toy store.
A brief look at Mexico's food culture, then and now.