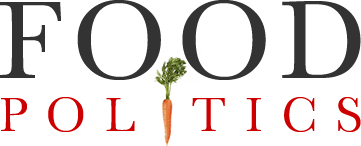 by Marion Nestle
Congress, FOIA, and Checkoff programs
Congress in its infinite wisdom is now doing Big Ag a big favor.  It wants to exempt checkoff programs from having to deal with pesky Freedom of Information Act (FOIA) requests.
The House Appropriations Committee just approved its version of the 2017 Agriculture Appropriations bill along with committee report language getting checkoffs off the hook.
Checkoff programs, you will recall are commodity research and promotion programs run by boards and overseen by USDA.   The Milk Board, for example, does the milk mustache campaign.
Checkoffs mainly do generic marketing.  They are not supposed to lobby.  The USDA is supposed to manage the boards—but not with federal money.
So are checkoffs government programs or not?
The checkoffs like to say they are government when convenient, but not government when inconvenient.  This is one of those times.
The report language says because checkoffs are "not agencies of the federal government," they should not be subject to FOIA laws.
I learned about this latest example of congressional protection of industry from a tweet on May 2 from Associated Press reporter Candice Choi.
Food commodity trade groups, she shows, wrote a letter to Congress to exempt checkoff programs from being subject to FOIA requests.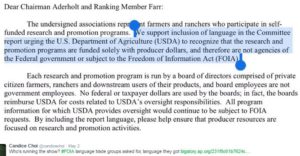 Congress happily incorporated that language right into the Appropriations Act.
In their article about this latest act of hypocrisy, Candice Choi and Mary Clare Jalonick write:
On April 11, a group of 14 trade associations sent a letter to Rep. Robert Aderholt, R-Ala., chairman of the House Appropriations agriculture subcommittee, and Rep. Sam Farr, D-Calif., the subcommittee's top Democrat, asking them to urge USDA to recognize that the promotional programs are not subject to public records requests.  The rationale was that the programs are funded by producers, according to a copy of a letter obtained by the AP.
Irony alert: A Supreme Court decision in 2005 upheld the checkoffs' collection of fees from producers as being protected as "government speech."
Hypocrisy alert: Trade associations wrote the letter, not the checkoff boards.  This is because the boards are not allowed to lobby, but their closely related trade associations can.
Choi and Jalonick also point out that:
The checkoff programs were established by the government at the industry's urging as a way to collect mandatory fees from producers for promotional efforts. That has resulted in considerable marketing muscle for agricultural products. Last year, the egg board had revenue of more than $22 million; the pork board's revenue topped $98 million in 2014.
The Fern quotes professor Parke Wilde of Tufts University, a long-standing expert on checkoff programs.  These, he says,
have always been subject to freedom of information laws. It stands to reason: Farmers and the public deserve to know what's really going on with these well-funded USDA-sponsored programs….
Wilde obtained documents
about the 2006 decision by the Pork Board to pay $60 million to the National Pork Producers Council for the rights to the advertising slogan of pork as "the other white meat." Wilde wrote in 2013, "It looks to me like the sale price was drastically inflated as a way of funneling money from the semi-public checkoff program to the private-sector trade association."
Just last year, a FOIA request from The Guardian, revealed that the egg checkoff, working with Unilever, agreed to use its influence to have Hampton Creek's Just Mayo removed from Whole Foods.
Lobbying or not?  You decide.
The National Farmers Union says it
strongly opposes the blurred lines between the commodity trade associations and the checkoff boards. Our policy states that mandatory producer assessments should not go to organizations that engage in lobbying, and no contracts should be awarded to organizations that carry out political or lobbying activities.

FOIA is a central pillar of transparency in our democracy. It provides for an open government where citizens can request records from federal agencies – with some exemptions for national security, law enforcement and personal privacy…Take a look at the letter NFU sent today, and let your members of Congress know that this language is not in the best interest of family farmers, ranchers or consumers.
Thanks to The Hagstrom Report for this list of references
▪ Capital Press — Commodity groups seek Freedom of Information exemption for checkoff boards
▪ National Public Radio — Under Attack, Commodity Promotion Programs Try To Hide Their Emails
▪ U.S. Food Policy —Checkoff program supporters seek to shield checkoff boards from freedom-of-information scrutiny
▪ The Guardian — Largest U.S. food producers ask Congress to shield lobbying activities
▪ Fortune — Where's the Beef? You Won't be Able to Find Out if Agricultural Groups Get Their Way