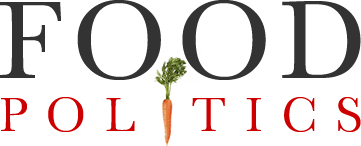 by Marion Nestle
New food label! Congratulations Let's Move! & FDA
I kept hearing rumors this week that Michelle Obama would announce the revised Nutrition Facts panel at today's summit meeting of the Partnership for a Healthier America, the public-private partnership organization that supports Let's Move!
And here is the graphic from the White House press release:
Congratulations on the long-awaited changes:
Calories big and bold
Added sugars
Serving sizes updated
"Dual column" labels for "per serving" and "per package"
Daily Value footnote: "The % Daily Value (DV) tells you how much a nutrient in a serving of food contributes to a daily diet.  2,000 calories a day is used for general nutrition advice."
Nutrients: Vitamin D, Calcium, Iron, and Potassium.  Voluntary: Vitamins A and C.
Expect to see this on food packages in two years (small food producers get an additional year to comply).
Here are the relevant FDA documents:
Here are the early comments (I will be adding more as they arrive):
The new food label is an extraordinary accomplishment, especially in the light of a political climate in which the food industry and its friends in Congress fight public health nutrition measures tooth and nail.
For background, see some of my posts on food labels since 2008:
Addition, May 26: Politico reports that 6 food trade groups commissioned a study to demonstrate that the cost of implementing the new food labels would be much higher than estimated by the FDA.  Although the paper does not disclose its funding (or if it does, I missed it), Politico says the funders included the Corn Refiners Association, the Grocery Manufacturers Association, the Sugar Association, the American Bakers Association, and the International Dairy Foods Association.  As with most industry-funded studies, they got what they paid for.