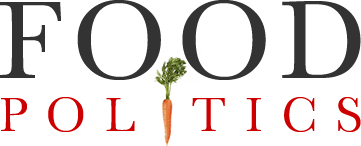 by Marion Nestle
FoodPolitics catches up: USDA's meat labeling
After a snow-induced stranding in Miami, the vacation ends, and FoodPolitics.com resumes by catching up on missed events.
Other missed events will follow, but let's start with USDA's announcement that it is requiring Nutrition Facts labels on meat and poultry products.
In the Final Rule published on its website, USDA says it will require labeling of fat and calorie content on all industrially packaged intact or ground, single-ingredient, raw meat and poultry by January 1, 2012.  USDA's rule exempts small producers, however.
Nutrition Facts on meat and poultry have been a long time coming. USDA seriously considered such labels in 1990 when Congress passed the Nutrition Labeling and Education Act.  That act only required Nutrition Facts labels on FDA-regulated foods, which include pretty much everything except USDA-regulated meat and poultry.
By the time the USDA finally got around to proposing its own version in 2001, the agency made labeling voluntary.
You can guess what happened.  Meat and poultry producers happily volunteered not to label their products.
Why not?  Meat producers greatly prefer that you remain ignorant of the amount of fat and calories meat contains.
As is evident from this label example, meat labeling raises issues related to calories, fat, saturated fat, and serving size.
Calories: this particular ground meat contains 21 grams of protein and 11 grams of fat.  These provide 190 calories, per serving.
Fat: Fat is the major determinant of calories (9 per gram as compared to 4 per gram for protein). That is why more than 50% of the calories in this ground beef come from fat.
Saturated fat: The 4.5 grams of saturated fat in this meat account for 22% of the Daily Value, a lot or a little depending on what else you eat.
Serving size: The serving size is a quite reasonable 4 ounces (like a quarter-pounder).  It represents, however, a substantial increase over previous USDA serving size suggestions.  Since 1958, the USDA has considered a meat serving to include just 2-to-3 ounces.
As I discuss in Food Politics, pressures from meat producers over the years induced government agencies to steadily increase the amount of meat (or meat substitutes) recommended for daily intake.
1958 to 1989 (USDA food guides): two daily servings of 2-3 ounces for a total of 4-to-6 ounces
1990 (Dietary Guidelines): two daily servings of 2-3 ounces for a total of 6 ounces
1992 (Food Guide Pyramid): two-to-three daily servings for a total of 5-to-7 ounces
1995-2005 (Dietary Guidelines): two-to-three daily servings for a total of 4-to-9 ounces
If advice to consume two-to-three daily servings of meat (or meat substitutes) still holds, the recommendation will now be 8-to-12 ounces.
The 2010 edition of the Dietary Guidelines is overdue and should be released any day now.   In its report last June, the Dietary Guidelines Advisory Committee said:
Shift food intake patterns to a more plant-based diet that emphasizes vegetables, cooked dry beans and peas, fruits, whole grains, nuts, and seeds. In addition, increase the intake of seafood and fat-free and low-fat milk and milk products and consume only moderate amounts of lean meats, poultry, and eggs.
What will the new guidelines say about the amount of meat we should all be eating?  I can't wait to find out.
Happy new year to all!
Addition, 1-1-11: I forgot to cite the USA Today story on this (I'm quoted).