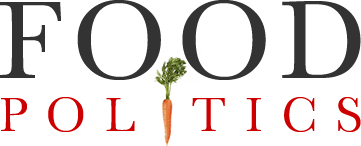 by Marion Nestle
Guest blog for Scientific American: the new food label
The changes are a step toward better health and less obesity, especially in children
By Marion Nestle on May 24, 2016
The FDA's announcement of final rules for its overhaul of labels on food packages is a signature accomplishment of Michelle Obama's Let's Move! campaign to end childhood obesity within a generation.
In 2010, in setting the agenda for Let's Move!, the White House Task Force on Childhood Obesity called for improving the clarity, accuracy, and consistency of food package labels to enable parents and children to make healthier food choices.  The Task Force noted that more than half the adult public used food labels to decide what to buy, but that the current labels had hardly changed since the FDA's regulations of 1993.
The FDA actually began work on revising the food label in 2005 with a request for public input on updating serving sizes, and it began formal rulemaking in 2008.  The FDA proposed rules and issued its last call for comments in 2014.
I attribute this nine-year process to details and politics.
First, the details. The Federal Register notice on the food label takes up 943 pages, and it takes another 170 pages to explain the changes in serving sizes.
FDA's fact sheet on the changes explains the politics.  Most changes are relatively uncontroversial: the greater emphasis on calories, the removal of calories from fat, the requirement for "dual column" labels for "per serving" and "per package," the updating of serving sizes to more closely reflect actual intake, and the rewording of the Daily Value footnote.  As Michelle Obama put it, "you will no longer need a microscope, a calculator, or a degree in nutrition to figure out whether the food you're buying is actually good for our kids.  So that's a phenomenal achievement."
Indeed it is, especially in light of a political climate in which the food industry and Congress do all they can to undermine public health measures in school food and child nutrition programs.
Mrs. Obama alluded to the ongoing political controversy: "most important of all, this label will tell you how much sugar in your snack was added during processing, and how much of it comes from ingredients like fruit."
The new food label distinguishes between intrinsic sugars in food and those added in manufacturing; it also sets a Daily Value for the maximum amount of sugars recommended for diets of 2,000 calories a day.  I credit the Center for Science in the Public Interest for this accomplishment; it petitioned FDA for these changes in 2013 (its first added sugar petition was in 1999).
The Washington Post got right to the core of the controversy: "Why the sugar industry hates the FDA's new Nutrition Facts label." Americans consume roughly twice the amount of sugar recommended for good health, and sugars are rampant in processed foods.  All it takes is one 16-ounce soft drink to reach the 50-gram daily maximum.
The Sugar Association, the trade group for producers of sugar cane and sugar beets invokes science as the reason for its intense opposition: "We are concerned that the ruling sets a dangerous precedent that is not grounded in science, and could actually deter us from our shared goal of a healthier America."
The Association argues, correctly, that the sugars that occur naturally in fruits are biochemically identical to those added in manufacturing.  But this argument misses how added sugars dilute the nutritional value of food products.  Much research supports the health benefits of eating fruit, whereas added sugars raise risks for obesity and other chronic conditions.
The Sugar Association does not really care about science.  It cares about what will happen to sales if people read labels and reject products with added sugars.  This, of course, is one of the purposes of Added Sugars on food labels.
The Association has reason to worry.  Since 1999, per capita consumption of sugars has fallen in the United States, although it still exceeds the 10 percent of calories recommended by the World Health Organization last year.  The new label should accelerate that downward trend.
An even greater worry is that labeling added sugars might encourage manufacturers to reduce the amounts in their products.  The FDA's listing of trans-fatty acids on food labels in 2006 led to an immediate reductionin the use of hydrogenated oils as ingredients in food products.  I expect to see grams of sugars decline by the time these rules take effect in May 2018 (small food producers get until May 2019).
I see the new label as a political win for public health and Let's Move!  But let's keep this in perspective.  Healthful diets are based on foods, not food products.  We would all be healthier eating foods that do not come with Nutrition Facts panels, and saving most of those that do for once-in-a-while occasions.
The views expressed are those of the author(s) and are not necessarily those of Scientific American.
Recent Scientific American Articles by Marion Nestle