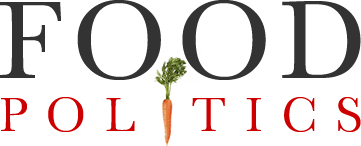 by Marion Nestle
Food Policy Action's 2016 Congressional Scorecard
This year, only three Senators—Bernie Sanders, Kirsten Gillibrand, and Richard Durbin—got top scores from Food Policy Action for their votes on food and farm issues.  This is down from the 29 who earned perfect scores in 2015.
In the House, 79 representatives got perfect scores as opposed to 87 in 2015.
The annual Scorecard ranks lawmakers on whether they support legislation on issues such as GMO labeling, hunger, fisheries management, food waste, pesticides, the EPA's waters of the U.S. rule, among others.
It's disappointing that fewer legislators are getting top scores, since one of the purposes of this activity is to hold them accountable and encourage more liberal voting on food and farm issues.