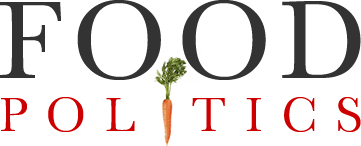 by Marion Nestle
Plate of the Union launches farm bill initiative
The Environmental Working Group and Food Policy Action are trying to get a head start on the upcoming Farm Bill.  Their new initiative: Plate of the Union.
This has four objectives:
Stop taxpayer subsidies going to Big Ag polluters – instead, invest in healthier farms.
Protect and improve vital anti-hunger programs.
Increase federal investments in organic agriculture.
Expand federal programs to revitalize land and reduce food waste.
These are critically important goals.  Everyone who cares about food needs to understand the farm bill and what it does.
But how to achieve them?
I'd like to know the action plan.  Stay tuned.