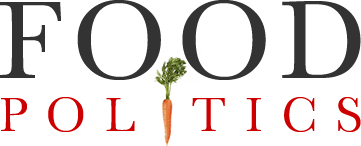 by Marion Nestle
The administration's war on food: summary by the Environmental Working Group
Scott Faber, Vice President of Government Affairs for the Environmental Working Group summarizes Trump's Full-Scale War on Food.  Since taking office, he writes, Trump has:
Proposed to cut food safety funding for the Food and Drug Administration by $117 million.
Proposed to cut funding for the Supplemental Nutrition Assistance Program, or SNAP, by $193 billion – a 25 percent cut – and cut international food aid by $2 billion.
Delayed new labeling rules for menus and packaged foods that would give consumers more information about calories and added sugars, and so far failed to issue a draft rule to implement a new law on disclosing genetically modified ingredients in food.
Weakened new rules designed to drive junk food out of U.S. schools.
Proposed to eliminate several Department of Agriculture programs that helped farmers sell directly to local consumers.
Proposed to eliminate funding for an entire division of the Centers for Disease Control and Prevention that works to reduce obesity.
Withdrawn new rules to protect drinking water supplies from polluters and proposed cutting the Environmental Protection Agency's budget by 31 percent.
Proposed to suspended two of the largest farmland stewardship programs and mothball others.
Postponed new rules designed to strengthen animal welfare standards on organic farms and proposed to eliminate funding for programs that help farmers switch to organic farming.
Reversed a ban on a pesticide linked to brain damage in kids and proposed cutting EPA funding for pesticide review programs by 20 percent.
Punted on new rules to protect farmworkers from pesticides, and proposed to eliminate a program to train migrant and seasonal farmworkers.
Mothballed new voluntary sodium guidelines that would drive reformulation of foods.
Called for so-called regulatory "reforms" that would block agencies like the FDA and USDA from adopting new rules designed to keep food safe, update food labels or provide students healthier meal options in schools.
This is an impressive list, calling for serious resistance.
How?  That's the question….